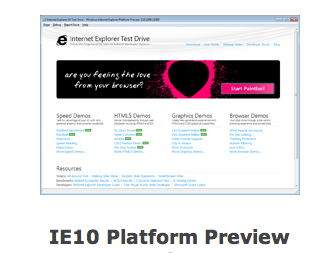 Internet Explorer 9 was just released, like last month, but Microsoft isn't taking a backseat in the new browser war. Microsoft has already released a preview of Internet Explorer 10 for developer testing.
The Internet Explorer 10 platform preview is a very early build of what we may see on IE10, and offers Windows user the opportunity to try out a new browser layout and test drive the browser on a special ietestdrive.com website. The IE10 testdrive will show you what the new browser is capable of.
According to the Windows Team Blog, the focus of the IE10 Platform Preview will be on two areas, "(1) More HTML5 with full hardware acceleration. (2) Continuing to deliver regular updates that provide progress on a regular cadence."
On stage at the MIX conference where Internet Explorer 10 was shown off, attendees were able to see the demo shown above, and learned that the system running IE 10 on stage was an ARM powered processor, specifically an NVIDIA Tegra 2 processor. This is exciting, because it shows the performance on ARM which is a different type of processor that will be supported in Windows 8.
In addition to running in standard notebooks, the ability to run on Tegra 2 devices means that we should see some new form factors and devices with Windows, perhaps as soon as early 2012.
More on what to expect in Internet Explorer 10.
Advertisement