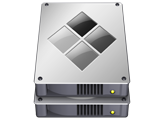 The early 2011 MacBook Pro has an update for Boot Camp that can be installed while running Windows. The update brings it to version 3.2 and solves a problem with "issues with shutdown" and fixes with "Japanese and Korean keyboards."
This Boot Camp Update is only for the early 2011 MacBook Pros. You can download the Windows executable file and run it under Windows when booting into it from Boot Camp.
Boot Camp is the system Apple users to make booting a Mac into the Windows operating system after it is installed. Another tool that can be used is Parallels or VMWare Fusion both of which lets a user run Windows on top of Mac OS X in a virtual environment. This allows users to run Windows programs within Mac OS X.
Boot Camp requires the user to reboot into Windows in a dual booting environment. Boot Camp only works with Intel based Macs. It comes with OS X so it is free to Mac owners. And it allows users to access their Mac partition so they can open files in Windows. For more about Boot Camp check out the Apple FAQ.
Advertisement