The Motorola Atrix 4G Android smart phone caught our attention at CES 2011 thanks to the ability to connect it to a dock, like the Motorola Webtop laptop accessory and use the phone as the brains of a laptop. This laptop mode allows you to work in a Firefox browser and to use your apps at the same time. The Webtop is a handy accessory, but at $499, you'd be better off purchasing a HP dm1z or a Lenovo X120e netbook to use when you need a "desktop" experience.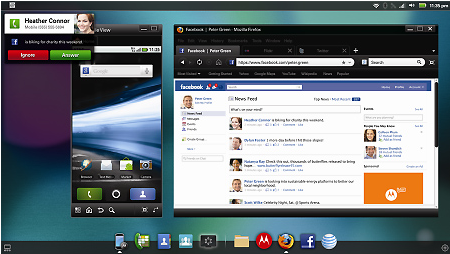 Thankfully, if you want to use the laptop mode on your Motorola Atrix 4G without spending a fortune on the Webtop or the official dock you're in luck. Fenny, a developer at the xda-developers forum, posted a set of files you can install to turn on the laptop mode on your Atrix 4G without the Webtop. This means that you can plug in any display to the HDMI connection on the Atrix 4G and use the smartphone as you would a notebook.
Once you install the files, which can be done without rooting your phone, you only need a HDMI cable to get started. This may not be as handy as a Webtop, but if you want to connect to a monitor or HDTV in a hotel, you can now use the desktop like experience without paying for an expensive dock.
If you want to make the most of this setup, we suggest getting a Bluetooth keyboard and a Bluetooth mouse to connect to your Atrix 4G so that you don't need to rely on the on screen keyboard.
Here is a Hands On Video of the Motorola Atrix 4G which gives you a closer look at the device:
Here is a closer look at the Webtop experience:
One more look at Webtop applications:
Advertisement