Lebron James and HP partnered up to donate 1,000 computers to Boys & Girls Clubs of America this week, spreading the love between Miami, where James currently plays for the Heat, and several other locations including his hometown of Akron Ohio.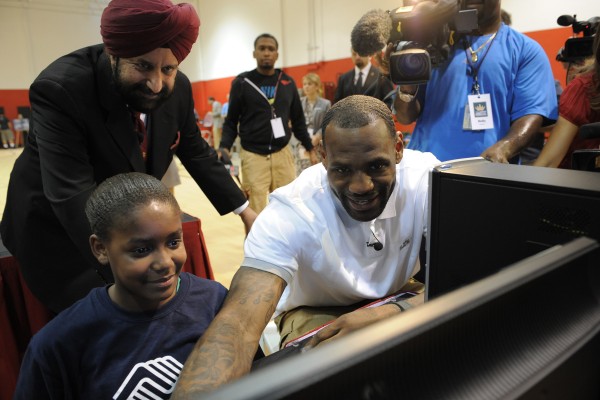 LeBron James, HP's Satjiv Chahil and Boys & Girls Club of Miami-Dade use a new HP computer
While many folks may know James more for walking away from the Cavaliers last year, He is also known for giving back to his communities through the Lebron James Family Foundation. The most recent gift placed HP computers in 59 Boys & Girls clubs in Lebron's communities and New York, Los Angeles, Chicago, Cleveland and Connecticut. During the donation, James stopped into a local Boys & Girls Club of America to speak about the importance of giving students the technology they need to succeed. Speaking on the initiative James said, "Our goal is to empower young people and having access to state-of-the-art computers and technology ensures that children will have the tools they need to achieve success."
Whatever your feelings may be about Lebron James, this is a major win for kids and our future. When was the last time you saw a job opening that didn't require computer knowledge, or met young person launching a small business without any computer experience. If we want to foster innovation and prepare children for the workforce and for running their own businesses, giving them access to modern computers, not 7 year old beige boxes with 256MB RAM, is incredibly important.
Advertisement