In case you missed the news Gmail had a failure this weekend for a small number of users who found their contacts and emails gone. As in poof, vanished. Goodbye. For users who backup via IMAP or another method this was an inconvenience, but if you leave your only copy of data in the cloud, it's a reminder that you should backup your Gmail account.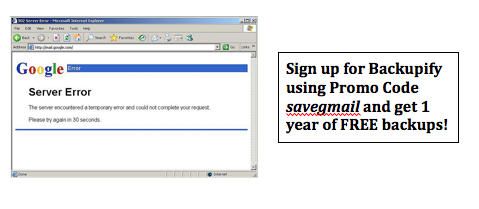 Perhaps the easiest way to do this is to sign up for a free year of Backupify which will backup your Gmail data after a quick signup process. The service will backup your contacts and emails, protecting them from the issues of backing up to a single system.
From now through midnight eastern on March 1st Backupify is giving away a free one year subscription to Backupify Pro 100 which backs up
Gmail
Google Docs
Google Sites
Google Calendar
Google Contacts,
Google Apps
Twitter
Flickr
Facebook
Zoho
Picasa
To get a free year of Backupify Pro 100 simply sign up for the free trial and enter the coupon code savegmail when checking out. Backupify will convert you from a free trial to a one year membership within 48 hours.
Via Lifehacker
Advertisement