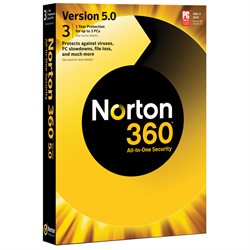 Symantec has just released the company's latest Antivirus and Security software, Norton 360 v 5.0
, which comes with a collection of new features and security tools to keep users safe while browsing the web. Norton 360 v5.0 provides more protection then you'll find on many free versions such as online storage, anti-spyware protection, phishing protection, PC tuneup and more.
The newest version of Norton 360 continues the protection from previous versions and incorporates the security software from Norton Security 2011 to bring a comprehensive protection suite to your computer.
Norton 360 V5 starts at $79.95 and can be installed on up to 3 computers in your household for optimal protection without extra cost.
Virus Protection: To keep you safe from viruses and malware Norton 360 V 5.0 looks at how other users have interacted with websites and files to help protect your computer. Norton 360 uses this insight to check files as soon as you download them and will block you from installing viruses. The same software will block installations which you didn't ask for in order to stop malware and crimeware that tries to install in the background when you visit a website.
Norton 360 V5 Video Review: This review is of the Beta, but showcases the new features found in the latest Norton antivirus program.
Safer Browsing: Another safety feature is Norton Safe Web which can integrate with Internet Explorer and Firefox to warn you about bad webpages within your Google, Bing, Yahoo and Ask search results, preventing you from visiting a site that may try to install a virus on your computer. This protection will also help you avoid phishing websites.
Safer Social Networks: Norton 360 v5 can also scan the links on your Facebook wall to find links to bad websites that will try to take your personal information and possibly hijack your Facebook account.
PC Monitoring: Norton 360 V5 includes tools which will monitor your computer and look for suspicious behavior, in order to curtail it before it becomes a problem. This is one way that the new antivirus software fights the latest tricks, scams and crimeware.
Parental Controls: Norton 360 v 5.0 also includes parental controls and management which makes it possible to see what websites your children are visiting and block those you don't want them to visit. The antivirus and security software will also monitor your child's social network usage and let you see who they are in contact with.
PC Tuneup and Performance Alerts: Another nice feature of Norton 360 V5 is the ability to tune up your computer. Not only can the built in software clean up clutter, speed up boot time and free up memory — but it can also deliver proactive performance alerts which alert you when Norton detects that an application is slowing down your computer.
Backup and Online Storage: Norton 360 v5 comes with 2GB of free online storage, the premium version comes with 25GB, which allows you to backup your important documents and also makes it easy to share large files with a family member or coworker with a link. If you need to access a file, you can do so from any computer with an internet connection.
Norton 360 v5 also includes the ability to automatically backup your files to a DVD, USB drive or external hard drive to make sure that your files are safe.
Versions: There are two versions of Norton 360 V5, the standard version which is $79.99 and the Norton 360 V5 Premier version which is also good on 3 computers and comes with 25GB of online storage for $99.99. If you are upgrading, you can also save, by visiting the Norton 360 v5 Upgrade Page.
Norton 360 V5 Screenshots:
Norton 360 v5 Requirements:
Operating Systems Supported
Microsoft® Windows® XP (32-bit) with Service Pack 2 or later Home/Professional/Media Center
Microsoft® Windows Vista® (32-bit and 64-bit) Starter/Home Basic/Home Premium/Business/Ultimate
Microsoft® Windows® 7 (32-bit and 64-bit) Starter/Home Basic/Home Premium/Professional/Ultimate
Minimum Hardware Requirements
300-MHz or faster processor
256 MB of RAM; 512 MB recommended
300 MB of available hard disk space
Must meet minimum operating system requirements for Microsoft Windows XP/Vista/Win7
Internet Explorer® 6.0 or higher, or Mozilla Firefox® 3.0 or higher
Internet connection – a high-speed connection is required for online backup
Advertisement