I read/watched an interesting blog entry by Ben Rudolf of the Windows Team Blog about an option customers have at the Microsoft Store to have their PC's customized and optimized with Windows 7 that includes just the essentials. This optimized version is called Microsoft Signature and we are going to show you how to get that same Windows Signature Experience on your current computer.
One of the things I have noticed over the past 3 years is the cut down of trialware that is included with most new PC purchases, but Windows Signature goes even further than removing trialware; it adds the items most users actually need. A Dell Inspiron a friend received for back to school, included a small bundle of programs most users out of the box can immediately take advantage of.
To get your PC configured with Signature, it must be purchased from the Microsoft Store, if you purchase your computer from another retailer, you will need to take it into your nearest Microsoft Store and have them configure it for you. One of things users don't like about OEM Windows installations is the trialware is often integrated with the recovery media, so even if you attempt to do a clean install, you are basically going to reinstall the same programs you are trying to remove.
…you can get Microsoft Signature on any PC purchased from the Microsoft Store.  But what if you buy a PC somewhere else, but want the Signature Experience?  That's where the other half of Signature Microsoft Signature Upgrade comes in to play.  If you live near a store, you can bring in any Windows 7 compatible PC and the Store techs will do a clean install of Windows 7 (you'll need to buy a full retail copy, of course), migrate all of your data, and then apply the Signature configuration to it (i.e., set it up almost exactly like a Microsoft Store-bought PC).  It's a great way to make your PC experience even better.
Lear more here
If you don't have the option of visiting a Microsoft store or don't live near one, here is a more cost effective method, create your own Signature Windows 7 PC!
Here is what you do, if you get a Windows 7 PC with unwanted trial software, all you need to do is the following:

Click Start, type: Programs and Features

Press the Enter key on your keyboard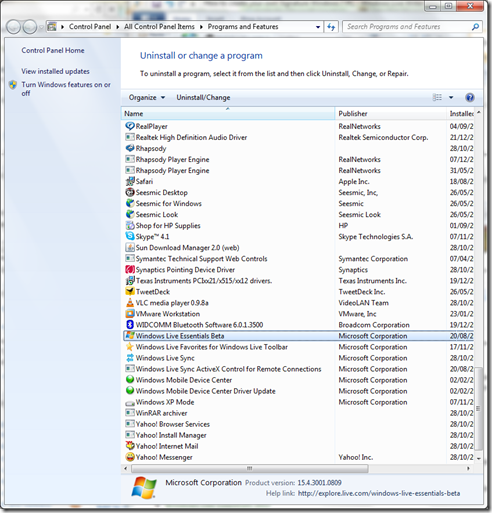 Spend a few minutes looking through the library of software installed

Select the programs you don't want to have installed, then click 'Change/Uninstall' button on the Command Bar and follow the on screen wizard to uninstall it.
Repeat this process for other programs.
Once you have uninstalled the applications you don't need, restart your system.
Click Start, type Disk Cleanup
Run disk clean up on the drive on which Windows 7 is installed.
For details on what you should delete and remove, please review the following article I authored about how to speed up your Windows 7 system:
https://adacosta.spaces.live.com/blog/cns!E8E5CC039D51E3DB!40406.entry
After that is complete, restart your system, then download those programs in Ben's post that Microsoft loads on a Signature PC:
Recommendation, download all these programs first before you start any installation.
Install in the following order to reduce the number of restarts you will need to do, (also remember to close your web browser window and any applications you might have open):
Microsoft Security Essentials
Adobe Flash Player
Microsoft Silverlight
Zune Software
Windows Live Essentials
Adobe Reader.
(Please note, if your computer came with an Antivirus utility installed such as a trial version or you installed one yourself, uninstall it before installing Microsoft Security Essentials to avoid any conflicts.
Now for optimizations, one of the great things about Windows 7 is, you can uninstall components that come with Windows you don't need, although I personally use most of the bundled programs that are included in Windows 7, but if there is a program you don't need, you can disable it, using our guide for customizing your Windows 7 installation.
Once you have done that, here is a very important recommendation, create a backup of your Windows 7 installation. With the release of Windows 7, all editions now include system imaging. What this does is create a backup replica of your actual Windows 7 installation. An essential part of doing this is having an external hard disk which are pretty cheap these days with enough storage to store the backup.
If you have a 500 GB internal hard disk for example, its recommended you get at least a 750 GB to a 1 TB USB external hard disk. You should take into account future growth such as installation of applications, creation of personal files such as photos and videos over time. Once you have obtained the external hard disk, simply connect it to your computer, turn it on and open Backup and Restore Center (Click Start, type: Backup and Restore Center), press Enter on your keyboard. For step by step instructions check out our guide on how to back up your installation of Windows 7.
Here is a cool trick, you can store multiple image backups of your Windows 7 installation on the external hard disk for extra backup purposes. Click Start, right-click Computer, click Properties, under 'Computer name, domain, and workgroup settings', you will see the present workgroup name, you can do the initial backup with this name, but if you create a future backup, it will overwrite any changes to the backup on the external disk you might make in the future. A work around for this is to click 'Change settings', under 'Computer name' under 'To rename this computer or change its domain or workgroup, click Change', click 'Change' button, enter a new name, call it 'Safe Backup'
Click Apply, then 'OK'
Restart the machine if prompted. Go ahead and do the backup to the external hard disk. Follow the same procedure, change the name again to something else as to avoid overwriting that signature backup we just created.
The benefit is, suppose you want to refresh your Windows installation in the future? All you need to do is simply, backup any recent accumulated data you might have created since that first 'Safe Backup' using Windows Easy Transfer to the same External Hard disk, you should create a .MIG file, the following article will show you how to use Windows Easy Transfer in Windows 7.
Go ahead and restore the 'Safe Backup' image we created the first time we got our new PC, the following article will show you how to do the restoration.
Once that is done, simply, launch Windows Easy Transfer in Windows 7, connect the external hard disk, follow the on-screen wizard and point to where-ever you stored the .MIG file on the external hard disk and proceed to restore your personal files and settings, follow the Windows Easy Transfer report to reinstall any applications that you might installed on your system since you last updated the System Image we first created (aka 'Safe Backup')
There you go, no need to request OEM media and at the same time you are learning how to take charge of your own Windows 7 PC. For some novices or intermediate users, going to the Microsoft store might still be best if you are not comfortable with these suggestions I provided. The beauty of the Windows ecosystem is, you might just know a trusted family or friend that can guide you through this process.
Advertisement