Regardless of the industry push towards cloud computing for new approaches to software distribution, backing up data and publishing media (music, videos, audio) many computers still come with optical drives to do a wide range of task and activities such as listening to music, backing up personal files and settings, installing programs or watching a movie there's still a place for the CD and DVD.
Today, we are going to be looking at using the Optical Recording capabilities built into Windows 7.
Burning a CD or DVD in Windows 7 can mean many things, these include:
Burning a movie created in Windows Live Movie Maker
Burning an audio CD created in Windows Media Player
Backing up personal files and settings using Backup and Restore
Burning individual files using the Burning Wizard through Windows Explorer.
In this article, we are going to look at some of these task and how to accomplish them.
Burning individual files using the Burning wizard through Windows Explorer.
Before the popularity of thumb drives the most affordable and efficient way to backup files and shuttle them from computer to computer was to use a CD-RW (Compact Disc Re-writable). These days you see almost everybody with a thumb drive hanging around their neck or a key chain. If you still prefer optical media, here is how you can use it.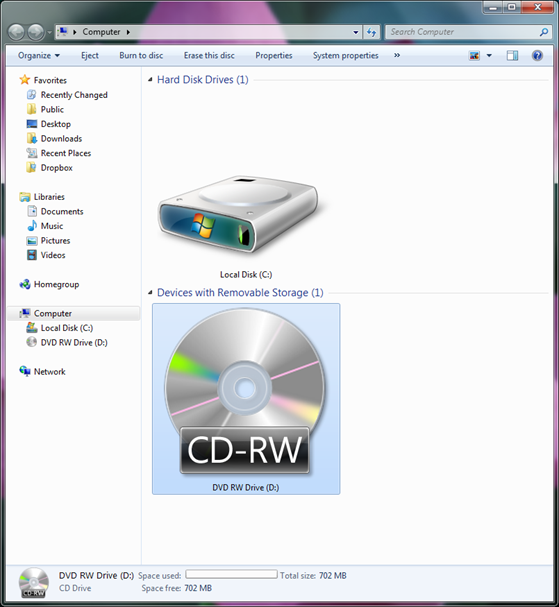 Using a blank CD-RW disk to backup files.
Preparing the Disc
To backup files to a CD or DVD, you will need a blank DVD-RW or a CD-RW (used or unused). You can use standard blank DVD or CD but understand it's for one time use only. Insert the disk into your optical drive. Depending on how you configured your computer, the Auto Play dialog should automatically appear on screen with a list of Task you can accomplish. If not, proceed to click Start > Computer > and double click the optical drive in which the disk is inserted.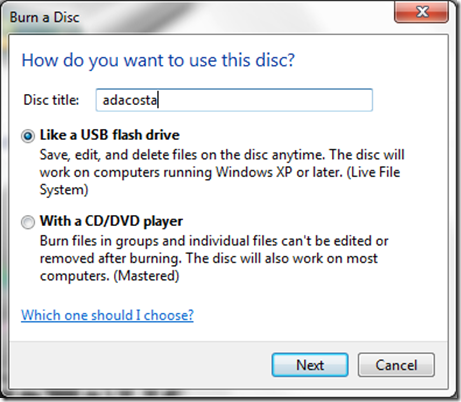 This will launch the Burn a Disc wizard which present a couple of options for how you can use the the disc. The first thing you need to do is give the disc a name.
You have two ways of using the disc, first Like a USB flash drive, which means, drag and drop files into the disk, you can open and edit files and click save in your favorite programs, whether it is Microsoft Word or Windows Media Player and it automatically writes the information to the disc. This is called a Live File System.
The second option, With a CD/DVD player means files will be burnt one time only to the disk and cannot be edited or removed. In my case, I plan to use my CD-RW to backup important files and use with different computers running different versions of Windows such as Windows XP and Vista.
After selecting Like a USB flash drive, click Next

The drive will prompt you to format the disk to prepare for use. Formatting can take some time depending on the type of media, especially if it's a blank DVD. If you have any programs using the disk, please close them.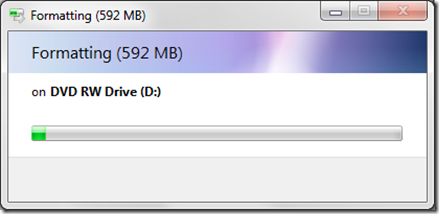 Formatting CD-RW disk.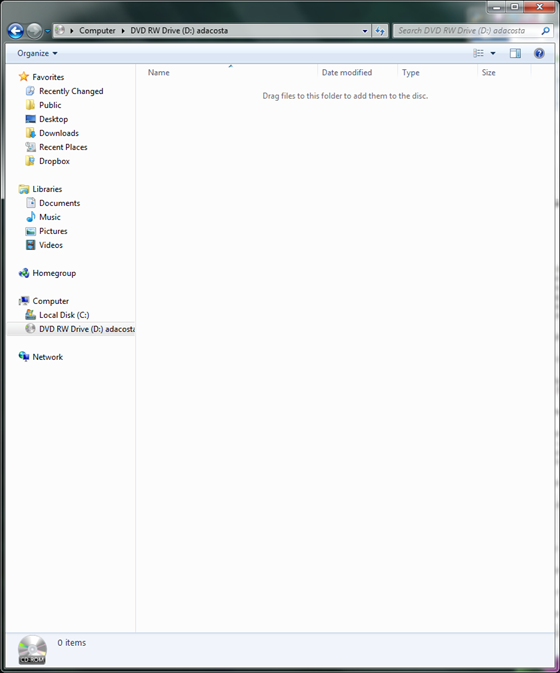 Once you have done this, you will notice that the CD drive is now open and ready for you to drag files into it. The next step is to locate where your files are that you would like to add to the disc.
This is a good opportunity to take advantage of the window management capabilities built into Windows 7 by snapping both windows to the opposite sides of the screen so you can efficiently browse and drag files over to the disc burning window. Learn more here.
So we have located our files, the next step is to simply drag and drop the files into the window. Here you can see I am dragging and dropping a few photos, please note, I am not limited by the type of content. I can drag and drop a mixture of documents, audio files, videos and pictures.  If you do encounter problems trying to drag files into the disk, you can try the following: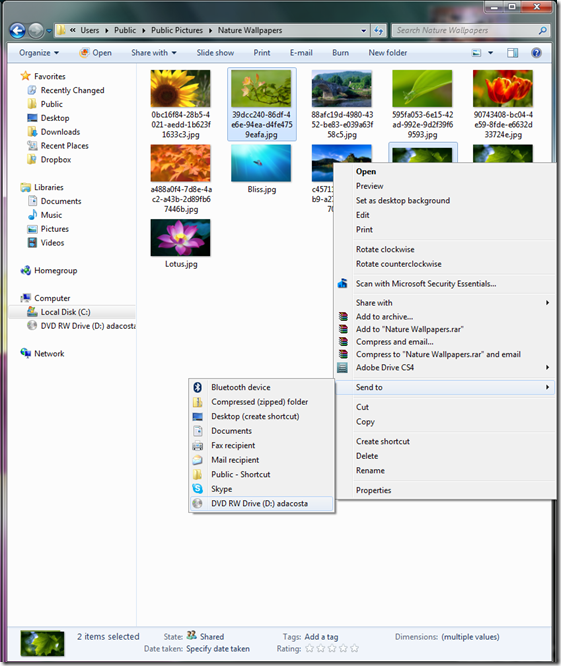 Right click the Files or Folder, select Send to > and click the name of the disk listed in the submenu.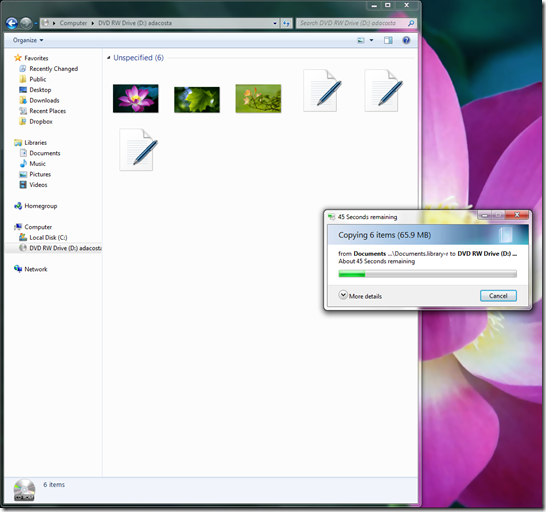 Files being coped to disk
That's it, your files have been added to the disk. You can now use the disk on any computer running Windows XP or Vista view and copy files just the same. See below: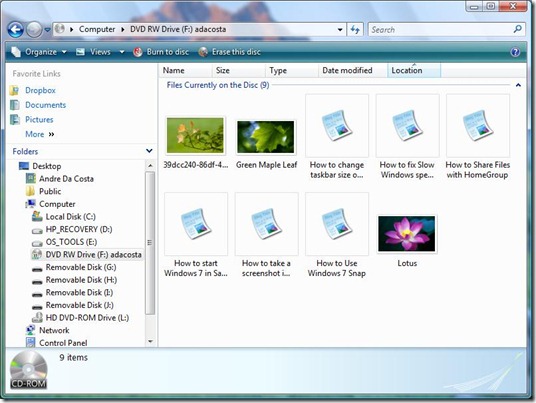 Backing up personal files and settings using Backup and Restore
In a previous Notebooks.com article we looked at using System Image to back up our Windows 7 installation to an external hard disk. In addition to this method of backing up your computer, Windows 7 includes standard backup which allows you to backup the contents of your User folder such as Documents, Music, Pictures Videos etc.
To start the backup, insert your CD or DVD blank disc.
If you have the Auto Play wizard enabled, you can click the Backup and Restore Center option.
or if you don't…
Click Start, type: Backup

Hit Enter on your keyboard
If you don't see the option to backup to optical media, click Change Settings. Follow the on screen wizard and select your optical drive, then click Next.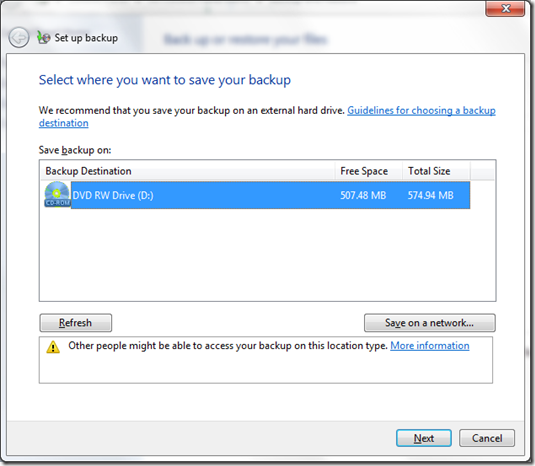 Once the backup wizard starts, select the destination, in this case, my optical drive is displayed DVD RW Drive (D:). Also displayed is information about how much Free Space is available and the total size of the disk. My disk has a reasonable amount of free space, so I will go with this destination since I won't be backing up too many files to it. If you are backing up a lot of files, it's recommended you use an external hard disk.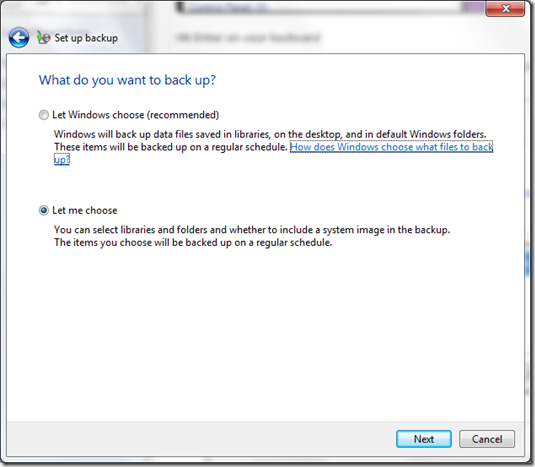 The next page in our wizard ask us what we would like to backup. Letting Windows choose might not be effective since it will be backing up a number of locations and folders which might actually exceed the size of our backup location. So, I will select 'Let me choose' option. I can individually choose libraries and folders.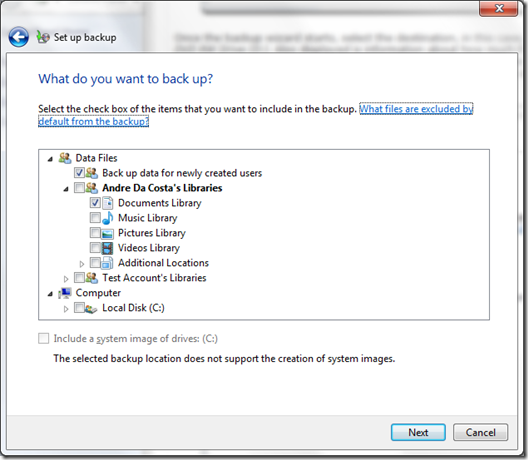 In this section of the backup wizard, a folder tree of all my folders and libraries are displayed. My intention is not to backup everything, just the most important folders and locations since I am limited by the storage capacity of my CD.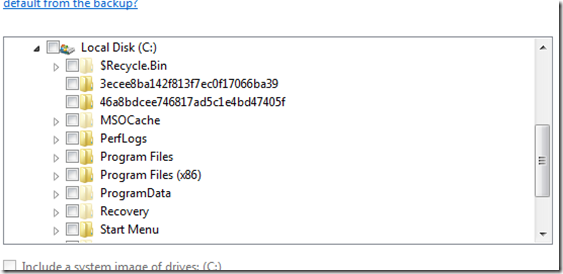 As you can see, the Backup wizard conveniently displays hidden locations, which is just what I was looking for. This is good, since what I would like to backup is my Microsoft Outlook Personal Folder files.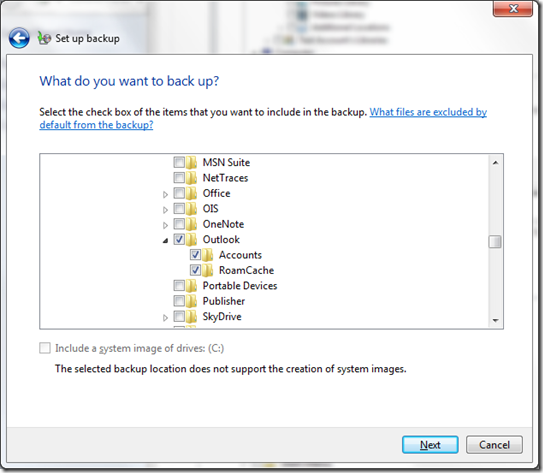 So I have selected the locations I want to have backed up, click Next.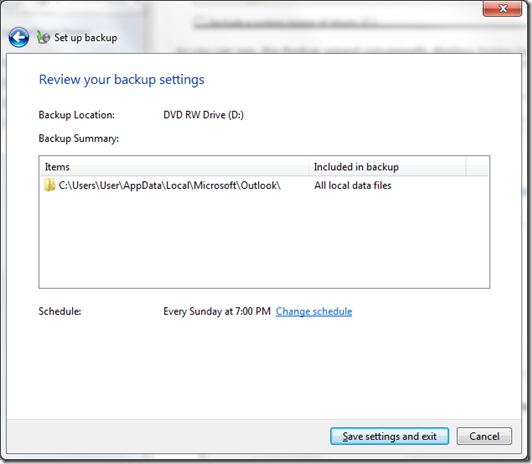 Review the Items you are backing up. If you would like to add additional folders or locations, click the Back button and make your changes. If everything is good to go, click Save settings and exit.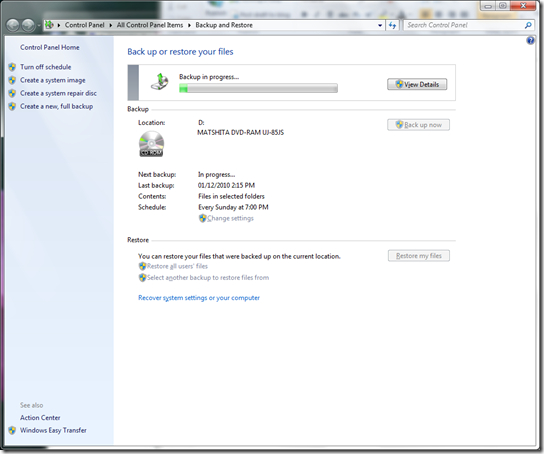 Backup in progress.
When you are ready to restore your backup, just reopen Backup and Restore and click the link under Restore to 'Restore all users files' and follow the on screen instructions.
Burning an audio CD created in Windows Media Player
Probably one of the most popular and prolific activities of the early to mid 2000's. Rip and Burn as some would call it made a fun way to create your own mix CD's with your favorite songs. There were some troubles involved with ripping and burning music CDs due to the popularity of online file sharing, but ripping your music to your hard disk had, and has, it's legitimate purposes. Of course this was before the popularity of MP3 Players like iPod or Smart Phones with enough storage capacity or even affordability in comparison to a 1 cent CD Blank.
With the release of Windows XP, Microsoft built in CD Burning as a part of the operating system. One of the major beneficiaries was Windows Media Player which allows you to create and burn your own Music Playlist and we are going to take a look at doing that.
Burning a audio CD
First thing we need to is launch Windows Media Player.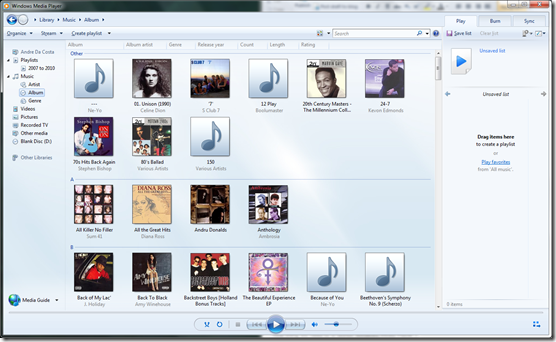 Go to the Burn tab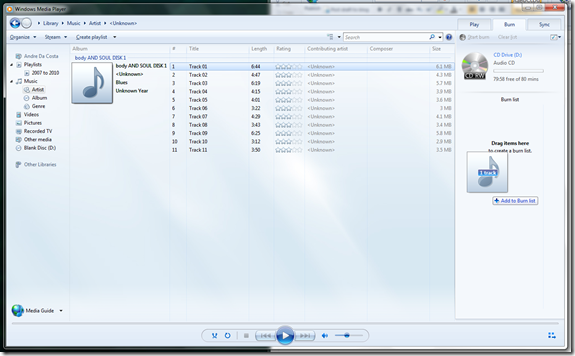 In the Music Library, browse then drag drop into the Burn Playlist pane on the right and repeat the steps until you are satisfied with the amount of songs you have.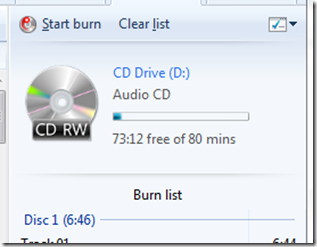 You can also use the progress bar in the Burn Pane to indicate how much space you have left to add songs to a typical 80 min CD.
I find the most convenient way to burn a CD in Windows Media Player is to simply create a Playlist. It's quick and easy, just click the Create playlist button on the command bar and use the same method of dragging and dropping songs  in Play Pane. Once you are done click Save List.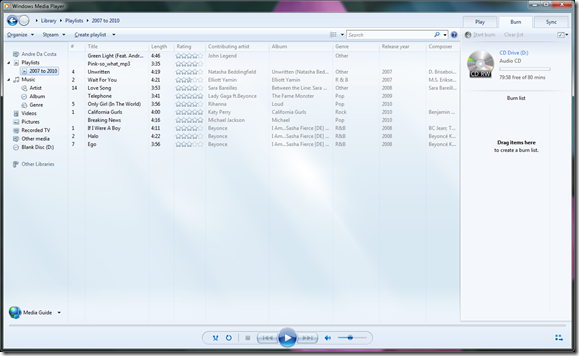 Since I already have a playlist created of songs I would like to burn, all I need to do is, right click it, select Add to > Burn List
Automatically, my songs are added and are ready to be burned. I can edit the list if I want by dragging around tracks in any desired order.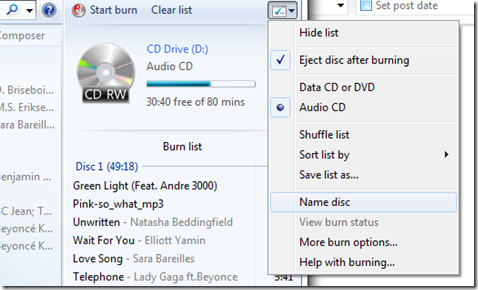 I can click the Burn Options button and access additional options.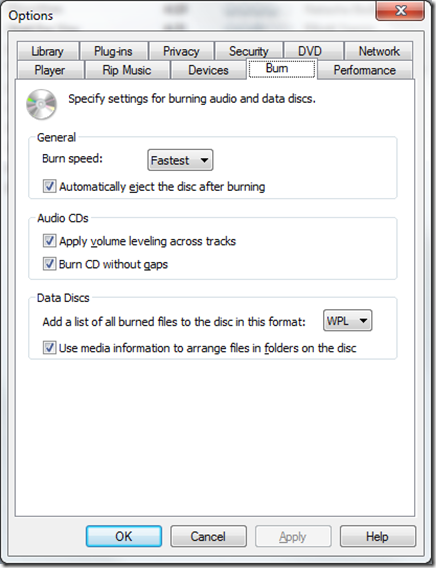 I suggest you check out the More burn options tab which displays settings for burning audio discs. I personally recommend you burn your CD's at the lowest possible for best results. You can also adjust options whether you want volume leveling for consistency across tracks. You can also select if you want a short pause between your tracks too.

Once you are ready, just click the Start burn button to begin burning the audio disc.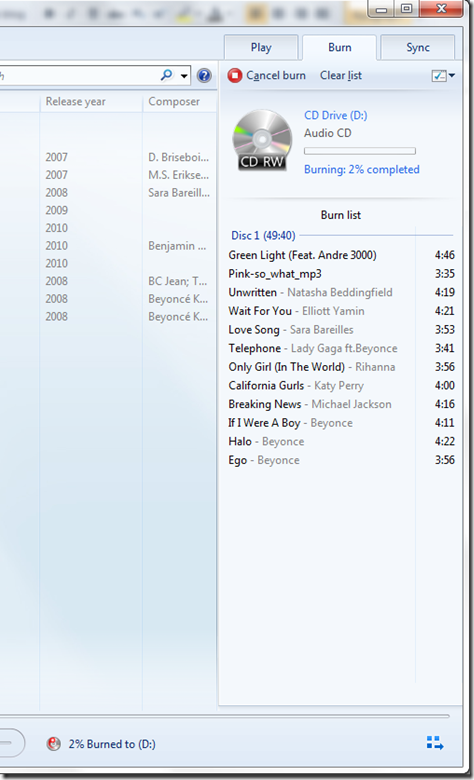 You can monitor the progress of your CD while it burns or do something else in the mean time. Once the disc has been burnt, it will be automatically ejected.
Burning a movie created in Windows Live Movie Maker
So for we have explored three of the options available for working with optical media in Windows. The last one we are going to look at deals with video. With the release of Windows Live Wave 3 and Windows 7, Microsoft decoupled it's free video editing software Windows Movie Maker and renamed it Windows Live Movie Maker in addition to bundling it with it's free set of programs and services called Windows Live Essentials.
Windows Live Movie Maker makes convenient to create quick movies you can share with family and friends through differenet mediums, whether it's by publishing to a online video service such as YouTube, by email using Windows Live Mail or traditional means such as a DVD or CD.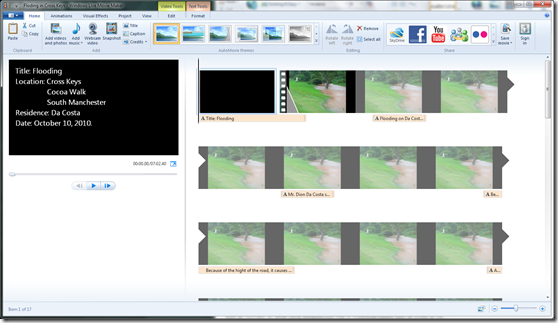 Here you can see a movie I have already edited and I am now ready to burn to DVD. To do this, click the Save Movie In in the Share group and click  Burn a DVD.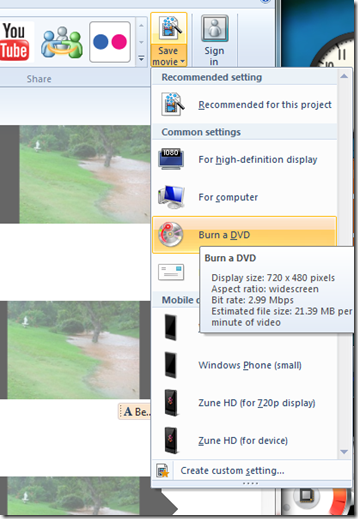 Give the file a name and this will prepare the video for burning using the Windows Media Video File format.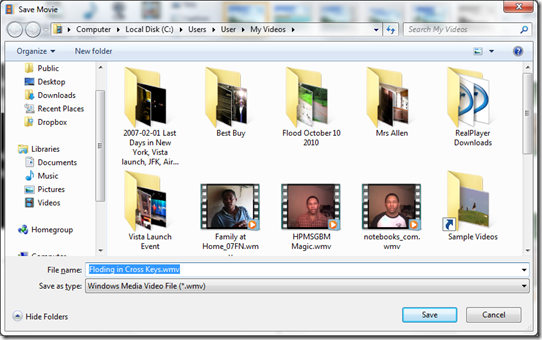 Saving Movie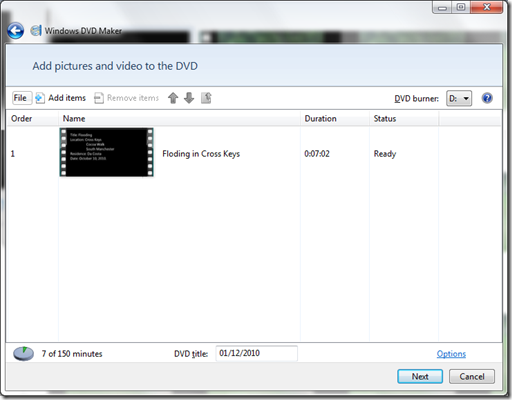 After the Movie is saved, it will automatically launch Windows DVD Maker and the movie file to list of items to be burnt. If would like to add other media, click the Add Item button on the command bar.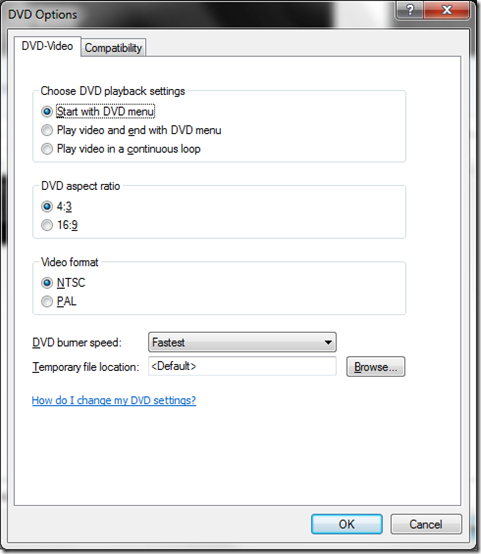 If you click the Options link, you can make adjustments to how DVD is played back, the aspect ratio for how it will look on screen and the supported format. Just like media player, you can adjust the speed at which it is burnt. I also recommend burning at the lowest speed for best reliability. Click Next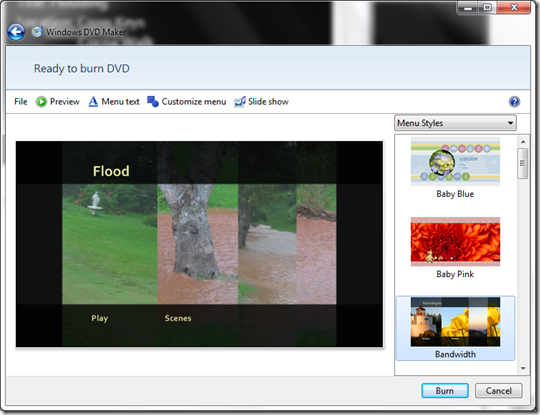 Next you can customize the look of the DVD Menu. DVD Maker includes a number of themes to choose from. You can make further changes by clicking the Customize menu and Preview your changes.
Once you have made your adjustments, click the Burn button.
It's 2010, the role of the optical drive is beginning to fade, but there is still a lot of life left in it. It remains a great way to backup files, share information and media. Why not explore some of these available options already built into Windows 7.
Advertisement