The wealth of easily accessible information on the web means that most people immediately go online to find help with the computers. But what happens when you have no internet connection? Most people will panic without being able to type a question into their favorite search engine, and won't be able to find assistance until they somehow reconnect to the web. I had an issue the other week when the power went out, and despite it being only for a few brief seconds, it left the connection in the building in ruin. No one had web access. This came at a bad time for me as I had multiple projects that I was working on and needed a connection to the web. Luckily I had a backup.
My backup solution for web access is tethering through a smartphone (tethering is connecting a phone to a computer and sharing the web access). But I also needed to know how to create an ad-hoc" network in order to facilitate the tethering. An ad-hoc wireless connection is a peer to peer connection between two devices with WiFi. Needless to say, most people don't create ad-hoc networks on a daily basis, so I needed a refresher.
Though the internet wasn't at my disposal, I still had somewhere to go for help. Windows operating systems (Windows XP, Windows Visa, Windows 7, etc.) have lots of help articles included in the instillation itself, which means you don't need an internet connection to access them. A simple query for the term ad hoc" brought up a list of results and the first on the list was exactly what I needed: Set up a computer-to-computer (ad hoc) network." This gave me a straight forward guide, which was available without a web connection, to do exactly what I needed to in order to get myself back online.
The moral of the story is that even without the web, Windows can provide good support for a variety of topics, in case you find yourself lacking an internet connection.
Accessing Windows built-in help is simple:
No matter which modern version you are running (XP/Vista/7) just press the start button and select Help and Support.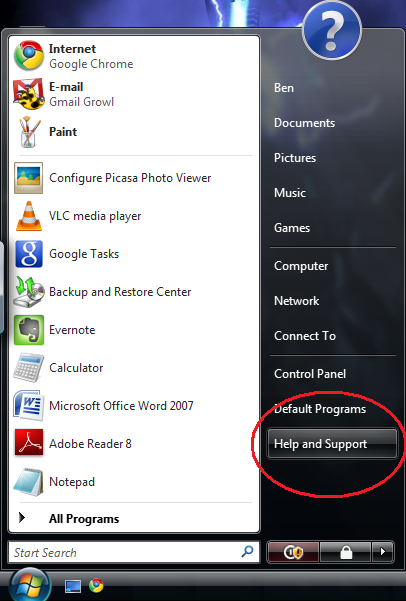 Enter your query in the search box.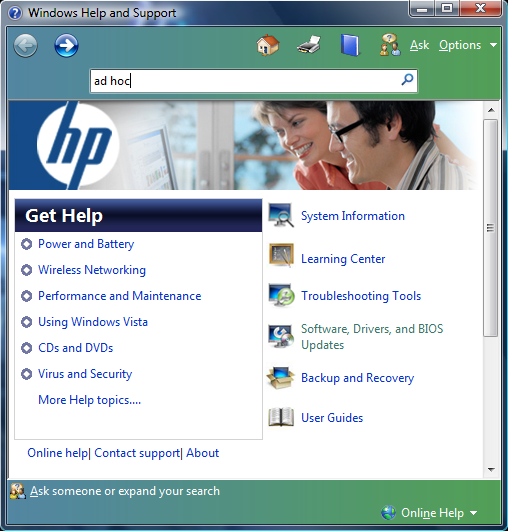 Select from the list of results.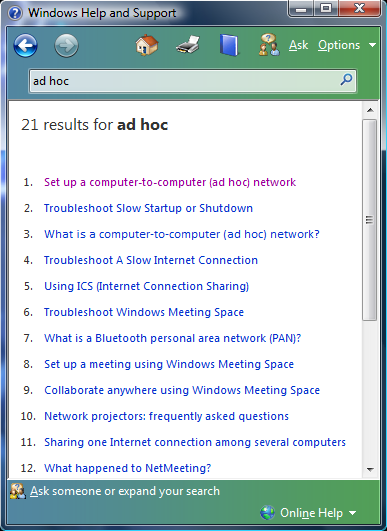 Advertisement