Apple finally released iTunes Match, which lets iTunes check all the music you have on your computer and then lets you access it from iCloud for a yearly fee. Setup isn't complicated, but I want to show you the steps and warn of a snag or two, so you can take full advantage of the service with your computers and your iOS devices like the iPhone, iPad and even Apple TV.
First, this assumes a couple of things. You have to have the latest version of Mac OS X 10.7 if you are using a Mac. It also works on Windows. Then, you have to update iTunes to version 10.5.1. On a Mac, do this via the Apple menu by clicking on Software Update. On Windows you can download it manually from Apple.com/iTunes. Once installed you will find a new item in the left hand side of iTunes called iTunes Match. It goes away after you set things up.
Setup On Computers
Now, click iTunes Match and then go ahead and subscribe to the service. Apple will charge your credit card $24.95 before you can get started. After successfully charging your card, it then starts to go through the three-step process.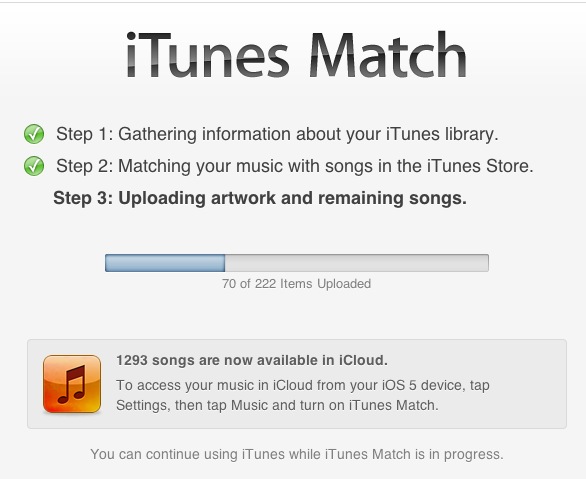 iTunes will gather information about your library. It reads your list of music files and then in step two it compares the music to their database of music to see if it has a compatible version of that song. Finally, in step three, it uploads the files that it didn't find a match for in step two. In my case this required uploading 222 files.
Now, go to your other computers but wait till the process finishes on the first machine. I initially jumped the gun and tried to upload music from both of my MacBooks at once and it gave me an error message saying I had to wait till the first one finished uploading songs. Once it does, you can set things up on the other machines.
Setup On iOS
On your iOS device you turn this on by opening the Settings app, tap Music and the turn on iTunes Match. If you have an Apple TV you can also turn it on. There is a new tab called Music with iTunes Match as one of the items on that list.
Benefits of iTunes Match
What you get for your trouble is all of your matched music files in the cloud that you can then download to any of the devices or computers associated with your iTunes account. In my case I can access it via my iPad, my wife's iPad, the three iPhones on our account and both of my MacBooks.

The music files are even upgraded once you match them and later download them.  Let's say you ripped a song from an old CD in only 128-Kbps. The file you get to download from iTunes Match service will be encoded at the higher 256-Kbps in AAC format, which means you get better quality sound but at about the same or a lower total file size since AAC files are smaller than MP3 files. Also the files are DRM-free, so they should be playable on other devices besides iOS hardware or iPods. Files that have been matched but are not stored locally can be downloaded by clicking the little icon in iTunes seen to the right. Click the cloud and it begins to download the file.
See our coverage of the announcement at GottaBeMobile.com. For more information see Apple's iCloud page.
Advertisement