A new netbook from NEC running Android 2.2 on an NVIDIA 1GHz Tegra 2 dual-core processor is coming next month. The NEC LifeTouch Note netbook, or smartbook as our friends at Gottabemobile called it, will be available in March. It has a 7-inch resistive touchscreen display and an 800×480 resolution. The screen folds all the back so that it can lay perfectly flat.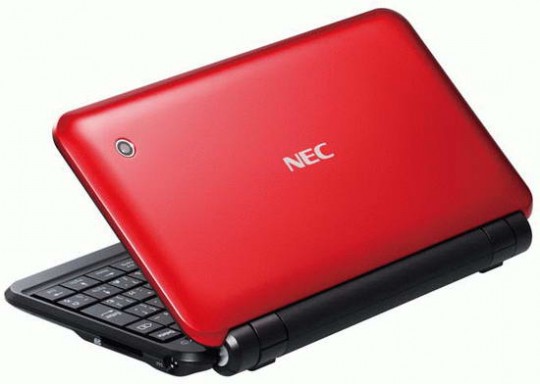 The keyboard is a QWERTY keyboard. While the screen will be touch friendly, a keyboard this size won't be touch-typist friendly. With the touchscreen it looks like there is no internal pointing device. There is however a tiny touch device that behaves somewhat like arrow keys jumping around between the onscreen icons by swiping up/down or left/right with one finger. This is strange since there are also arrow keys. But the touch device might also act like a scrolling wheel. The keyboard includes the typical Android buttons for home, back etc.
For a device like this battery life would have to be decent for it to be useful. NEC claims it will be as much as 9-hours. We will have to see if that is accurate or wildly inflated like most manufacturer's battery claims.
Storage will include 8GB of flash memory and a free 8GB memory card in one model. That one comes in Piano Black – seen below, Chocolate Brown or Red – seen above. The storage in the second model is only 2GB onboard with a 2GB free memory card. That one will come in only Piano Black, as seen below. We assume the free 8GB or 2GB flash memory cards will be micro-SD cards.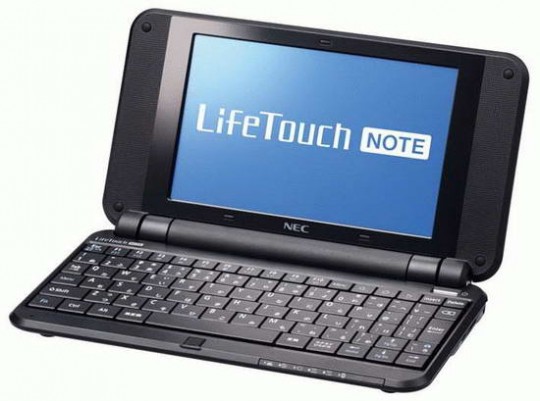 Other specs include the following:
802.11 b/g/n Wi-Fi for networking and getting online
Bluetooth 2.1
2-megapixel camera
GPS for navigation and location-based apps
An accelerometer
Digital compass
Mini-USB port
This diminutive netbooks is smaller than most. It is 9.2×5.4x.98 inches and weighs 1.5 pounds. Below is a video from JKKMobile from MWC.
According to the video this will only be available in Japan at first, but if it sells well there, maybe we will see something like it in other locales. According to Connection Pros the cost will be $539 for the higher capacity storage version and $480 for the lower capacity.
Advertisement