Engadget is reporting that the Android powered Samsung Galaxy Tab will likely be announced as coming to Verizon at a Samsung Event on Thursday. The Galaxy Tab is a 7″ touchscreen tablet powered by Android.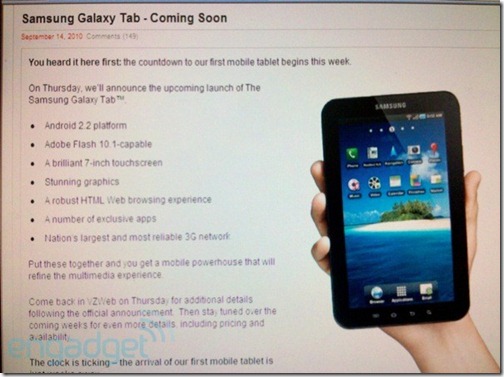 The Thursday announcement rumor comes from a leaked image of the in-house web site for Verizon employees. The image has a date of Semptember 14 and it says On Thursday, we'll announce the upcoming launch of The Samsung Galaxy Tab." If authentic, that doesn't necessarily mean it is coming Thursday, just being announced Thursday. We still don't know the price of the Galaxy Tab on Verizon, when it may launch or if it will require a contract for purchase.
The specs listed match up with what we know about the Galaxy Tab from Samsung's announcement.
Android 2.2 operating system
Adobe Flash 10.1
7-inch touch screen
The internal site then says Come back … Thursday for additional details." It also calls this the company's first mobile tablet."
Advertisement