At the Oracle OpenWorld conference Dell CEO Michael Dell showed off a new 7″ Dell tablet. The new Dell tablet looks a lot like the Looking Glass prototype that was leaked earlier this year and Dell told the audience in attendance that, "it's nice to have a larger screen," but didn't offer any other details on the new Dell tablet.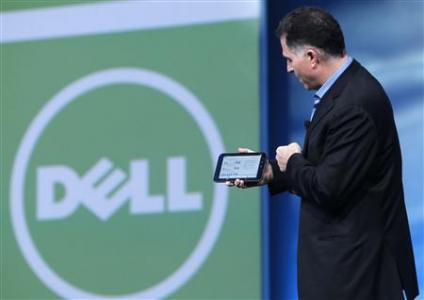 Source – Reuters
The surprise unveiling of the Dell 7 inch tablet comes shortly after the launch of the Dell Streak, a 5″ $299 Android powered Tablet which is sold by AT&T. Dell also announced that soon the Streak would be sold in Best Buy retail locations, giving consumers another place to get introduced to the small form factor device.
The unveiling of a new, larger, Dell Tablet isn't surprising given the buzz surrounding the launch of the Samsung Galaxy Tab, the success of the Apple iPad (and rumor of a smaller 7″ iPad model for early 2011) and recently the rumor that we will see a RIM tablet called the BlackPad, also a 7 inch tablet, announced next week.
Via InformationWeek
Advertisement