Lenovo has updated the ThinkPads for 2011 with a new ThinkPad T520 notebook that is aimed at business users that need the latest Intel 2nd Gen Core i processors, IT friendly features and enhanced usability that comes from Lenovo. The ThinkPad 2011 refresh also includes the smaller ThinkPad T420 which delivers a more portable package.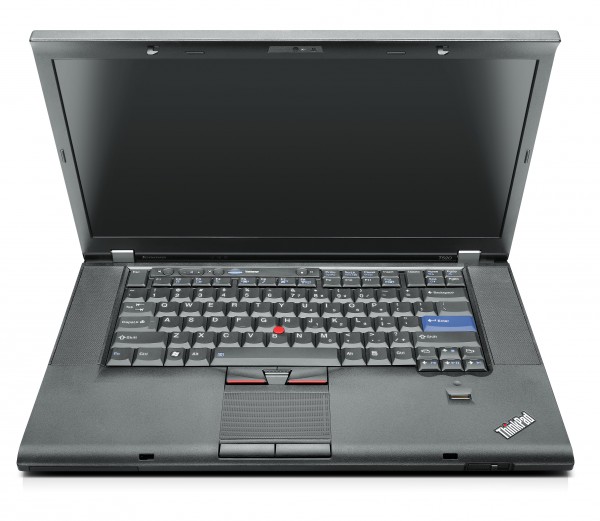 ThinkPad T520 Quick Specs:
The ThinkPad T520 comes with the newest Intel Second Generation Core i processors, all the way up to the Intel Core i7-2820QM 2.30GHz processor with TurboBoost 2.0. The T520 can be configured with up to 8GB RAM and up to a 320GB hard drive or up to a 160GB SSD. The T520 has Lenovo Enhanced Experience 2.0 which includes TurboBoost+ which allows the ThinkPad T520 to run in TurboBoost longer than standard notebooks. The T520 also is able to boot on 20 seconds faster than the standard Windows 7 PC thanks to RapiDDrive technology.
ThinkPad T520 Features:
Like the rest of the ThinkPad T Series, the T520 has the newest voice chat features that allow users to toggle between private mode and conference call mode. These modes use the dual array microphone to narrow in to the single user or to listen in all directions respectively. The new enhanced video chat modes also suppress keystrokes so you can take notes while you are using the microphone without overpowering the conversation.
Other enhancements include the ability to close your laptop without losing the WiFi connection as you walk between meetings. IT admins will appreciate that the T520 uses the same batteries and docking stations as the T, L W Series for easy company wide deployment.
ThinkPad T520 Battery Life:
The ThinkPad T520 is rated for 11 hours with the standard 9 cell battery, and can be extended using the T series slice battery which stacks on the bottom and essentially doubles the life. Slice batteries add weight, but they don't extend out the back of the notebook like many extended consumer batteries do.
Lenovo ThinkPad T520 Pricing and Availability:
The Lenovo ThinkPad T520 will be available on March 29th with a starting price of $909 along with the rest of the ThinkPad T, ThinkPad L and ThinkPad W lines.
ThinkPad T520 Gallery:
ThinkPad T520 Specs:
Brand
Lenovo
Model
ThinkPad T520
Processor
Intel® Core™ i7-2820QM (2.30GHz, 8MB L3, 1333MHz FSB)

Intel® Core™ i7-2720QM (2.20GHz, 6MB L3, 1333MHz FSB)

Intel® Core™ i7-2630QM (2.00GHz, 6MB L3, 1333MHz FSB)

Intel® Core™ i7-2620M (2.70GHz, 4MB L3, 1333MHz FSB)

Intel® Core™ i5-2540M (2.60GHz, 3MB L3, 1333MHz FSB)

Intel® Core™ i5-2520M (2.50GHz, 3MB L3, 1333MHz FSB)

Intel® Core™ i5-2410M (2.30GHz, 3MB L3, 1333MHz FSB)

Intel® Core™ i3-2310M (2.10GHz, 3MB L3, 1333MHz FSB)

Operating System
Genuine Windows® XP Professional 32-bit

Genuine Windows® Vista Business 32-bit

Genuine Windows® Vista Home Basic 32-bit

Genuine Windows® 7 Home Basic 32-bit

Genuine Windows® 7 Home Premium 32-bit

Genuine Windows® 7 Home Premium 64-bit

Genuine Windows® 7 Professional 64-bit

Genuine Windows® 7 Ultimate 32-bit (Special Bid)1

Genuine Windows® 7 Ultimate 64-bit (Special Bid)1

Hard Disk
Choice: 160GB (7200rpm)1

250GB (5400rpm/7200rpm OPAL1)

320GB (5400rpm/7200rpm)

4GB Solid State Flash Drive, Serial ATA1

Intel® 80GB Micro Solid State Drive, Serial ATA

128GB Solid State Drive, Serial ATA

Intel® 160GB Solid State Drive, Serial ATA

Memory / RAM
Choice: Up to 8GB
RAM speed
1333MHz
Memory Type
DDR3
Optical Drive
DVD ROM Read-Only1 Multi Burner/DVD CD Multi Rec
Keyboard
Improved ergonomic design, ThinkPad UltraNav multipointing system, including TrackPoint pointing device and larger multitouch touchpad with flush design, larger Esc and Delete keys, separate microphone and speaker mute buttons with LEDs, VoIP Fn+F6 hotkey combination, LEDs added to CapsLk key, power-on button and fingerprint reader
Graphics Card
Intel® Integrated HD Graphics Discrete NVIDIA® NVS 4200M (1GB VRAM ) with Optimus™ Technology
Available Integrated Communication
WWAN ,Bluetooth 2.1, WiMAX, WLAN
Supported WLAN Card
Intel® Centrino® Advanced-N + WiMAX 6250 (Kilmer Peak) 2×2 AGN

Intel® Centrino® Ultimate-N 6300 (Puma Peak) 3×3 AGN

Intel® Centrino® Advanced-N 6205 (Taylor Peak) 2×2 AGN

Intel® Centrino® Wireless-N 1000 (Condor Peak) 1×2 BGN

ThinkPad BGN* (RealTek® – Stockton) 1×1 BGN

Supported WWAN Card
Intel® Centrino® Ultimate-N 6300 (Puma Peak) 3×3 AGN

Intel® Centrino® Advanced-N 6205 (Taylor Peak) 2×2 AGN

Intel® Centrino® Wireless-N 1000 (Condor Peak) 1×2 BGN

ThinkPad BGN* (RealTek® – Stockton) 1×1 BGN

WebCam
Integrated 2.0 MP Camera
Microphone
dual digital microphones
Warranty
1-year Limited Warranty
Dimensions
14.68in x 9.65 in x1.25-1.40 in

(373mm x 245mm x 31.8-35.6mm)

Weights
Starting at < 5.57lbs (2.52kg)
Display
15.6″ HD (1366 x 768)

15.6″ HD+ (1600 x 900)

15.6″ FHD (1920 x 1080) (95% Gamut 270 NITS)

USB Ports
3 USB ports
eSata Port
1 eSATA port/USB2.0 Combo
Other ports and slots
Display Port

1 Always-On USB 2.0 with yellow marking

34mm Express Card slot and SD Card reader
Advertisement