When it comes to taking notes on your computer, it's hard to beat a tablet computer that's designed for pen input. One such solution, aimed at offering a business ready experience is the HP EliteBook 2740p. The EliteBook 2740p is a business class convertible tablet that has matured over the years to meet the needs of corporate users who need a tablet with touch or Pen input and the flexibility of switching to a notebook for typing and extended work sessions.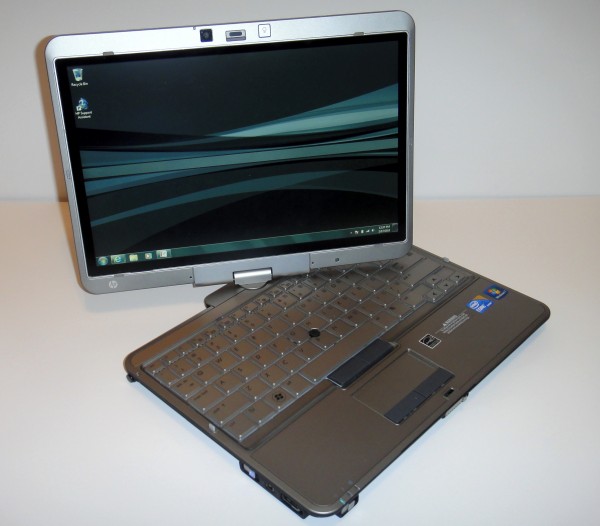 HP EliteBook 2740p Name Quick Specs: The EliteBook 2740p is powered by a 2.53GHz Intel Core i5 processor, 4GB RAM and has a 250GB 5400RPM hard drive on hand for storage. The 12.1″ display supports touch and stylus input and can be rotated and laid flat for inking. The Stylus has a fine point and interacts with the Wacom digitizer in 3 distinct ways. You can write with the fine point, right click by using the click button built into the stylus and erase notes by flipping the stylus over and using the "eraser" end.
HP EliteBook 2740p Video Overview from GottaBeMobile:
Who is this Notebook For? The [amazon_link id="B0044UEVES" target="_blank" ]EliteBook 2740p[/amazon_link] is designed for a corporate environment where the tablet is often used for specific functions and with customized applications. HP has taken steps to ensure that the HP EliteBook 2740p works with many existing EliteBook accessories to deliver an easy to service tablet. This convertible tablet would also be a good fit for small or medium sized business users or those seeking out a more durable tablet than you 'll find in the consumer market.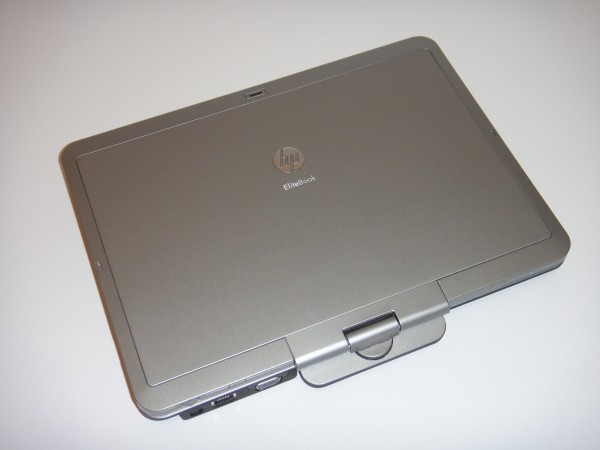 Build and Design: The EliteBook 2740p is a business class notebook and as such it has many features that combine to offer a sturdy and durable user experience. These features are similar to the EliteBook 8540p which we recently reviewed and the magnesium body delivers a similar durable feel. The construction was solid with no flex in the body of the notebook.
The hinge is also important given the convertible nature of the 2740p, and we were not disappointed. While there is a small amount of play in the hinge, we didn't feel that it was loose by any means.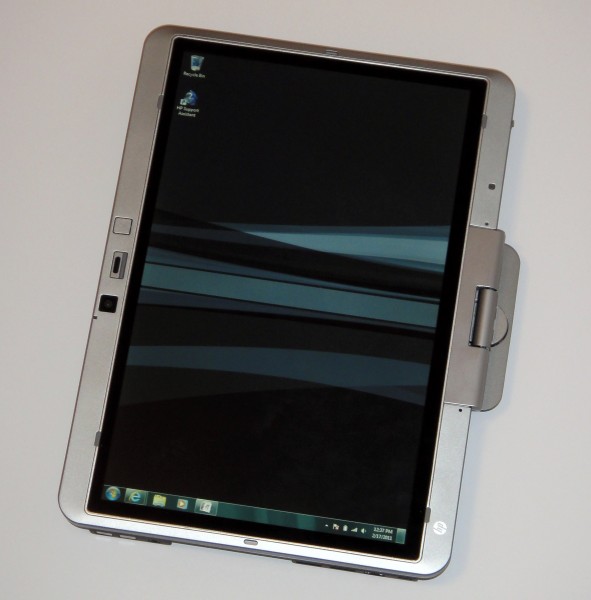 Display and Touch: The 12.1″ display on the 2740p can rotate to lay flat or at any angle that you find comfortable to work at. The screen is anti-glare which makes working in bright conditions much easier and the display doesn't have noticeable dots that are normally the tell-tale indicator of a touch screen. Overall we were impressed with the viewing angles in notebook and in tablet mode. The screen was able to get bright enough for our tastes, but it was a bit dimmer than some notebooks which choosy users should take note of.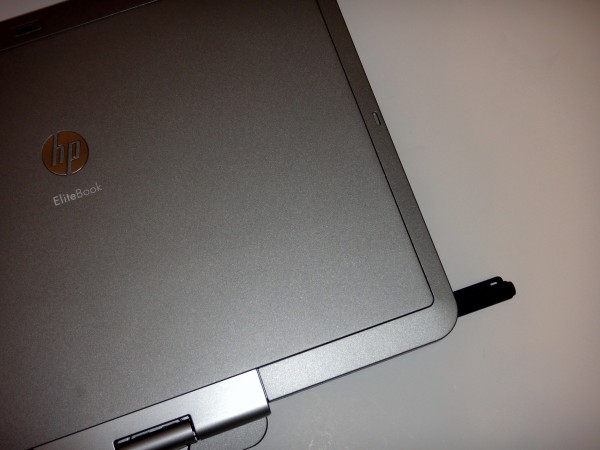 Inking and Touch: Inking on the EliteBook 2740p was a pleasure, especially after months of taking notes with a soft tipped iPad stylus! We used OneNote to take notes for several meetings and conference calls and had a very accurate stylus experience. The stylus allows for a inking or tapping to select items as well as a right click with the built in button. If you flip the stylus over, you can erase what you just wrote.
The touch experience was pretty accurate, and works great on apps designed for touch. That said, there is still a lot of Windows 7 that isn't ready for touch and even the Internet Explorer 9RC left us wanting more even tough there is a scroll wheel on the side to scroll up and down webpages. We suggest that when you aren't taking notes, working in a custom corporate application or reading an ebook in the touch optimized Kindle app you switch over to the notebook mode.
Mouse and Keyboard: The 2740p's keyboard is sufficient for a 12″ tablet and the design of the keys allows for fairly easy touch typing. The keyboard pitch is pretty good, but the space between keys is minimal. The dropped edged help with this, but we recommend that you get a dock and external keyboard for extended typing sessions. One other item of note is that there is a lot of flex in the middle of the keyboard.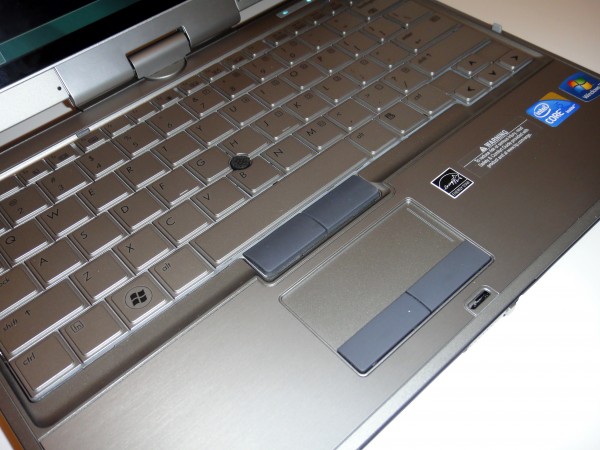 The mousepad on the EliteBook 2740p is minuscule taking up less than a quarter of the space you'd find on a MacBook Pro and about half the size of a regular consumer notebook. This is in part due to the size of the notebook and also due to the integration of a pointer stick and second set of mouse buttons. The ability to touch the screen helps make up for the size, as does the accuracy. Like the keyboard it will get the job done, but when you are able to you should use the screen or an external mouse for long work sessions.
Processor and Performance: The 2740p has a very capable processor for such a small machine which means you can use it for fairly demanding standard work tasks as well as in specialized uses that demand a tablet, but need more power then you'll find in a slate style tablet. We tested out common business use cases including Excel and Powerpoint as well as web browsing, working in PDF files and the like without taxing the processor.
Heat and Noise: The 2740p provided a surprisingly quiet and cool working experience for the most part. While it wasn't silent the entire time, or cold to the touch, it didn't have the same issues we have seen on other similarly sized notebooks. You will notice some heat and fan noise when you tax the full voltage processor, but nothing that would prevent you from using the device in your hands or on your lap.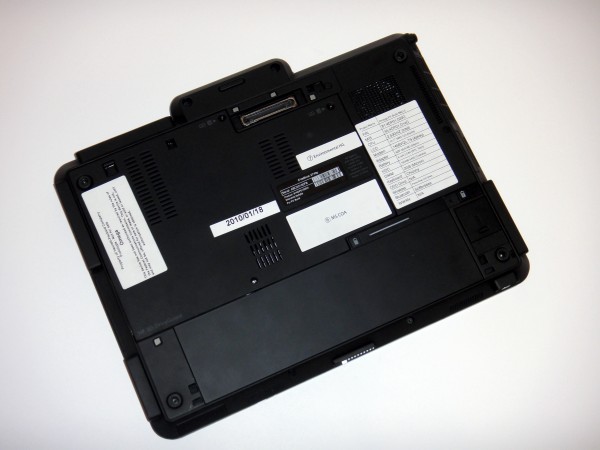 Battery: We used the Laptop Magazine battery test, which simulates a web browsing session, surfing to a new webpage at a regular interval. To test the battery life we set the screen at 50% brightness and achieved 3 hours and 40 minutes of battery life using the standard battery. There is an optional slice battery, which attaches to the base of the device that will essentially double your battery life to almost 8 hours. There is a weight tradeoff when using this slice option, but if you need an all day battery it's worth getting. The 2740p can still be used on a dock with the slice battery attached which is a nice feature.
Connectivity: As a business notebook, the EliteBook 2740p has a wider array of ports then you'll find on many consumer notebooks.

Left (left to right): Stylus, Vent, SD Card, Expresscard 34, Wifi Switch, Firewire, USB 2.0
Right (left to right): Quickweb, QuickLook, Headphone/Mic, Smartcard reader, USB 2.0, USB 2.0, Modem, Kensington

Back (left to right): Power, Ethernet, VGA
Software: The 2740p comes with a collection of software designed to help you get to work faster. The integrated HP QuickWeb and QuickLook tools allow you to boot straight into a web browser or right into your Outlook data without waiting for Windows to load. You won't appreciate these features fully until you have shutdown your notebook and instantly received a call asking you to check one last detail or forward an email. The laptop contains relatively little extra software, which is perfect in our opinion.
Value: With prices starting at $1,599 the EliteBook 2740p is clearly priced for the business market. The price may initially seem high, but when you look at the whole package — a durable professional class machine with a spill resistant keyboard and full core processor that can be converted into a tablet with a Wacom digitizer and a great inking experience — the price is quite reasonable and the ability to use with docking solutions adds to the value.
Conclusion: The HP EliteBook 2740p offers users a versatile user experience that fits in well to the corporate environment by including security and docking features. The EliteBook enables businesses to include tablets in the mix of computers without making special cases exceptions and relying on consumer grade devices.
Given the flexibility and the durability of this device it's certainly worth considering for corporate environments where note taking is key as well as for use with specially designed corporate applications designed to work on a tablet; especially those that need significant processing power.
Pros:
Great Inking Experience
Sensitive Touchscreen
Tough and Durable Design
Full Voltage Processors in Small Package
Cons:
Keyboard has noticeable flex in middle
Small mousing surface
Windows 7 not optimized for touch
EliteBook 2740P Gallery:
HP EliteBook 2740P Name Detailed Specs:
| | |
| --- | --- |
| Operating system | Genuine Windows® 7 Professional 64 |
| Processors available | Intel® Core i5-540M Processor (2.53 GHz, 3 MB L3 cache) |
| Specialized Design | HP 3D DriveGuard; Intel® Coreâ"¢ i5 with vPro/Intel® Coreâ"¢ i7 with vPro technology capable |
Memory
Memory
4 GB 1333 MHz DDR3 SDRAM

(All memory bus runs at a maximum of 1066 MHz)

Memory upgrade
Upgradeable to 8 GB
Memory slots
2 SODIMM
Storage
Hard drive
250 GB 5400 rpm 1.8-inch SATA II
Graphics
Display size
12.1″
Graphics
Intel® HD Graphics

Microsoft DirectX 10 (Shader 4.0) and OpenGL 2.0 capable

Integrated camera
2 MP webcam with Business Card Reader Software
Audio, Slots, and Ports
I/O Ports
3 USB 2.0

1 external VGA monitor

1 1394a

1 combo stereo headphone/mic jack

1 AC power

1 RJ-11

1 RJ-45

1 docking connector

1 secondary battery connector

Slots
1 Express Card/34

1 Smart Card Reader

1 Secure Digital

Audio
High Definition Audio support w/24-bit DAC; Integrated stereo speakers; Integrated dual-microphone array; Touch-sensitive controls for volume up, volume down, and mute; Combo headphone/mic jack
Communication features
Network interface
Integrated Intel Gigabit Ethernet (10/100/1000 NIC)
Wireless
Intel Centrino 802.11a/b/g/n; HP Integrated Module with Bluetooth® 2.1 Wireless Technology
Broadband service provider
AT&T, Sprint or Verizon Wireless (Optional Broadband)
Product specifications
Weight
Starting at 3.80 lb (1.72 kg)
Dimensions (w x d x h)
11.42 x 8.35 x 1.25 in
Energy Efficiency
Battery
6-cell (44 WHr) Li-Ion; HP Long Life 6-cell (39 WHr) Li-Ion
Power supply
External 65-watt Smart AC adapter; HP Fast Charge
Manageability
Security management
Standard: HP ProtectTools, Integrated Smart Card Reader, HP Fingerprint Sensor, TPM Embedded Security Chip 1.2, Kensington Lock slot, Enhanced Pre-Boot Security, HP Spare Key (requires initial user setup), HP Disk Sanitizer; Enhanced Drive Lock, Drive Encryption for HP ProtectTools, Credential Manager for HP ProtectTools, File Sanitizer for HP ProtectTools

Optional: LoJack for HP ProtectTools, McAfee Security Solution
Service and Support
Warranty
HP Services includes a one-year or three-year standard parts and labor warranty (depending on model), pick-up or carry-in, and toll-free 7 x 24 hardware technical phone support. On-site service and warranty upgrades are also available.
Advertisement