When you install Windows 7 or get a new PC with Windows 7 installed, by default, there are programs setup to do certain things. Whether it's editing text, viewing images, listening to music or some other common task Windows has a default program to get you going.
The programs that come set as the default might not be your favorite tool. For example, you may want to edit a picture in Adobe Photoshop instead of using Windows Live Photo Gallery. The following features and functionality, Default Programs, Open With and Always Open With can help you do that.
Default Programs
Say you have 3 or more programs that do the same thing on your computer, but you prefer to use one all the time when you trigger a task relating to that particular program. A common example of this would be clicking a link that starts your email program. Of course, the email program that starts might not be the one you want to use. With Default Programs, you can change that.

Click Start, then click Default Programs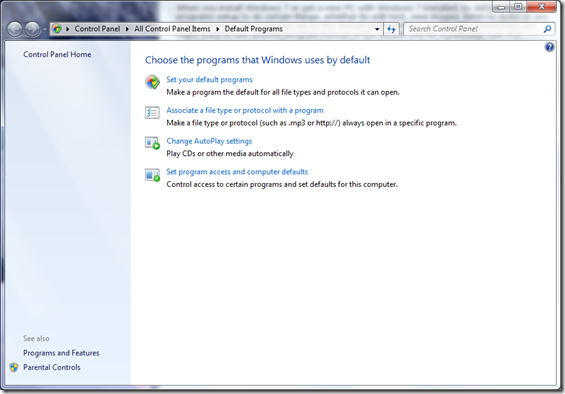 This opens the Default Programs Control Panel items Here you can choose the programs that Windows uses by default.
Click the Set your default program link.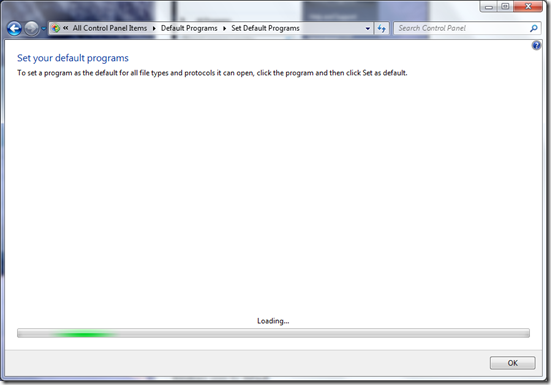 Wait while it loads the list of Programs available.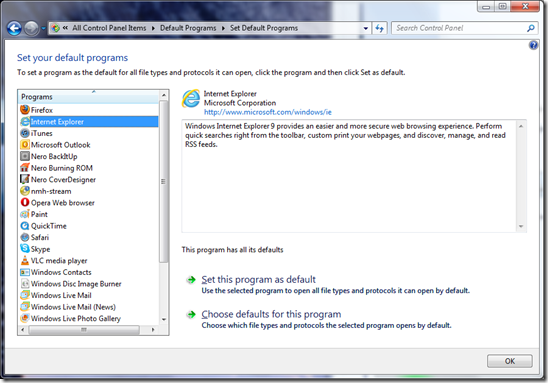 Here you can see a list of programs I have installed that I can set default options for, whether its email, web browsing, listening to music, viewing pictures, disc burning etc. For this example, I am going to set my default email program.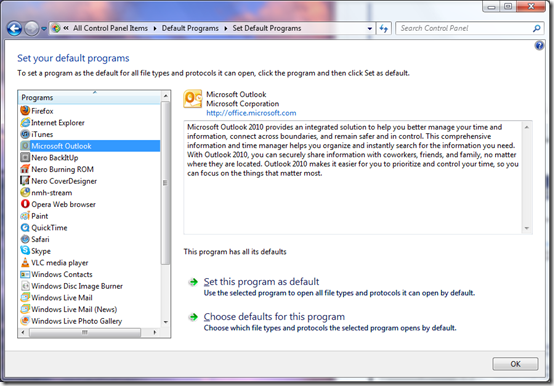 Because I use Microsoft Outlook a lot and all my emails are stored in it along with contact information and accounts, I want to set this as my default email program. I also have Windows Live Mail installed, but I don't use it so often. To set it as the default email program, click Set this program as default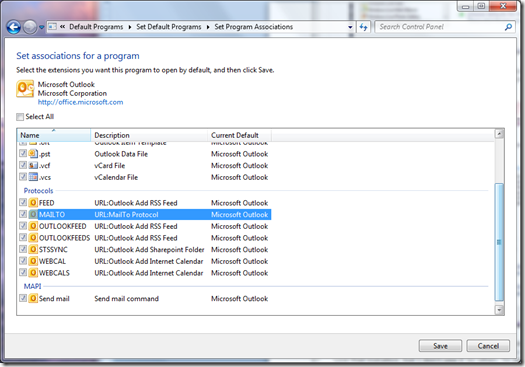 By default, I have Microsoft Outlook set to handle all emails, for example, when I click an email address on a web page or in a Microsoft Word document, it automatically launches Microsoft Outlook. Suppose I prefer to use another program instead such as Windows Live Mail? You can do that by using Associate a file type or protocol with a program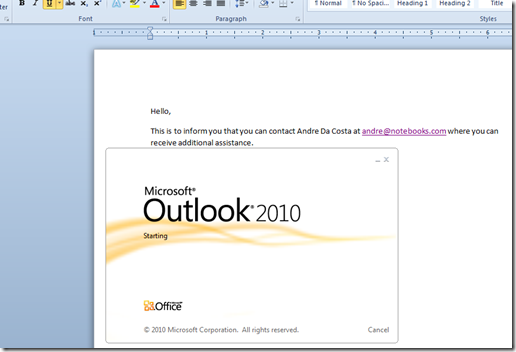 Whenever I Control + Click an address, it will automatically open Microsoft Outlook
With Associate a file type or protocol with a program you can change that behavior.
On the Default Programs page, click Associate a file type or protocol with a program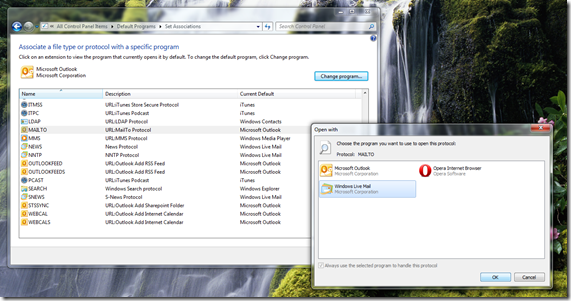 Scroll down to the Protocol or File type you want to change a default program for, then click Change program, in this case, it's the MAILTO protocol that handles that association.
The Open with dialog will display a list of suitable programs, in my case, I will select Windows Live Mail since it opens faster than Outlook.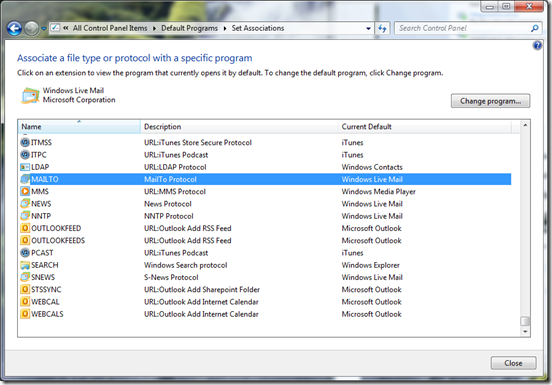 So whenever I click on an email address in a document or web page, it will open Windows Live Mail instead of Microsoft Outlook. Other scenarios you can use this for, you could set Apple iTunes to open .mp4 files instead of Windows Media Player.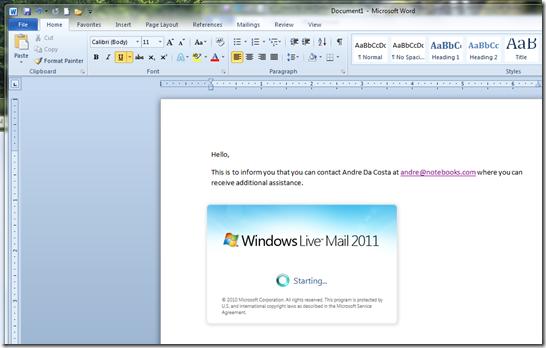 Email addresses now automatically launch Windows Live Mail.
Open With and Always Open With
Say you have a bunch of files you use from time to time, but instead of setting a default program, you would like to use different programs on the fly from time to time. Here is an example.

I have Microsoft Word set as the default program to open .rtf files, although this is great for rich editing, when I just want to review the document or make minor edits, I would prefer a program that opens much quicker such as WordPad.
To do that:

Select the file, on the Command bar, click in the Open list box and select the program I want, Windows will automatically display a list of the most suitable programs installed that can handle that file. If I want to set a default, program, on the same menu, click Choose default program…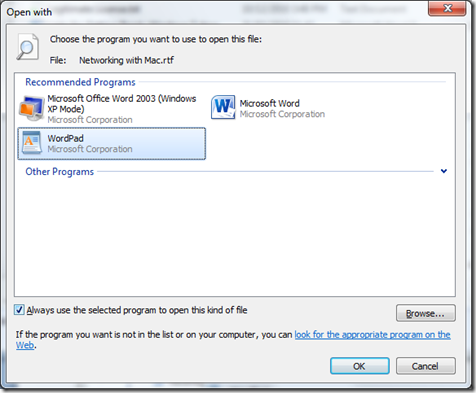 Then check the box that says Always use the selected program to open this kind of file.
Click OK.
The file will in future automatically open in that particular program.
Advertisement