Best Buy is featuring the Toshiba Satellite C655D-S5126 with AMD E Series processor in its ad this week for just $349. This 15.6″ notebook is one of the first AMD Fusion powered laptops we've seen come to market since the processor was introduced at CES 2011 where it won our Best of CES 2011 Innovation award.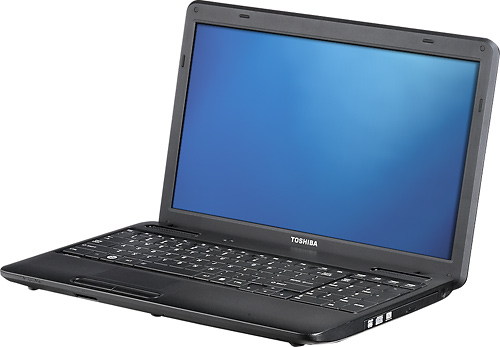 The Toshiba Satellite C655D-S5126 has a 1.5GHz AMD E series processor, 3GB RAM and a 320GB hard drive.  The laptop also has an AMD Radeon HD 6130 GPU which combines with the AMD Fusion APU to deliver a multimedia experience not normally found on laptops in this price range, at least outside of Black Friday.
Keep in mind the Satellite C655D-S5126 isn't designed for heavy gaming, but with the Fusion APU it is designed to deliver an HD experience for users who don't want o be constrained when they try to watch an HD video or do casual gaming.
Best Buy doesn't list the battery life for this model, but AMD is claiming that the Fusion APU is capable of delivering up to 10 hours of life. We'll want to wait and see if it can deliver that on this machine, but it is likely to have much better battery life than other notebooks in this price range. One of the first reviews of the Toshiba Satellite C655D-S5126 we could find listed the battery life at around 6 hours.
If you are looking for a good general use machine for office and student type tasks as well as the power to watch HD videos and better battery life than other $350 notebooks you should stop into your local Best Buy to check out the Toshiba Satellite C655D-S5126.
Toshiba Satellite C655D-S5126 Specs:
1.5GHz AMD E Series Fusion Processor
3GB DDR3 RAM
320GB Hard Drive
AMD Radeon HD 6130 GPU w/ 384MB – 1459MB (dynamically allocated shared)
15.6″ display with 1366 x 768 resolution
6X DVD RW Drive
Full size keyboard with number pad
Wireless B+G+N
Ethernet
SD card reader
No Webcam
6 cell battery
Toshiba Satellite C655D-S5126 Gallery:
Advertisement