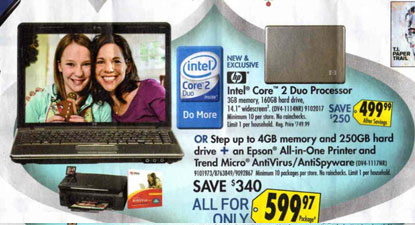 Best Buy will sell the HP Pavilion dv4 for $499 or $599 on Black Friday. The dv4 looks like its a special edition notebook with a silver finish instead of the standard HP black imprint finish.
The $499 version of the dv4 includes 3GB of memory, 160GB hard drive and a 14.1-inch display. There will be a minimum of 10 units at each Best Buy store on Black Friday. The SKU for this deal is dv4-1114nr
The $599 version of the dv4 includes 4GB of memory, a 250GB hard drive, Trend Micro AntiVirus and an Epson All-in-One Printer.
Both versions dv4 featured on Black Friday will include Intel Core 2 DUo processors. If you want to compare this notebook on HP's Web site, be sure to search for the dv4t (Intel) and not the dv4z (AMD).
There will be a minimum of 10 of each configuration at all Best Buy stores on Black Friday.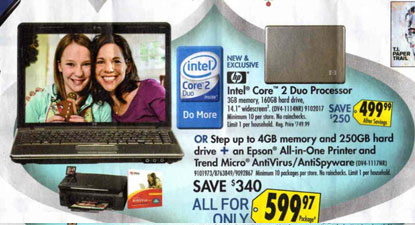 Please remember to closely examine this and any other Black Friday notebook deal to make sure you get something that fits your needs and your budget. Be sure to check out this article we wrote about 15 Tips for Buying a Black Friday Notebook (or Not Buying One).
Advertisement