WaterField Designs is doing it again. They have another high quality laptop case made of what they call "luxurious black leather." The Muzetto Man Bag is a vertical laptop bag made of black leather with colorful accents. It has a shoulder strap comes in five different sizes to accomodate almost any size notebook computer up to 15 inches, or smaller items like an iPad or other smaller tablets.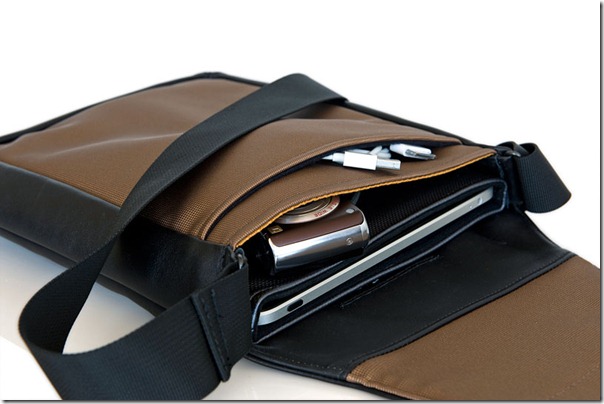 Under the covering flap there is a narrow front pocket for small accessories. The inner pocket is big enough to hold a computer or an iPad housed in one of their iPad sleeves, or by itself. It can also hold a smaller computer inside one of their Sleeve Cases or by itself. The zippered interior pocket is also designed to hold small accessories, like cables or a charger. The adjustable shoulder strap has a "grippy underside" to keep in place while toting the bag around.
They say that it will look casual enough to carry while not dressed up, but nice enough to carry while wearing a sport coat. It comes in either black or brown leather. The six color accent options are Green, Flame, Copper, Pine, Pearl and Black. The sizes and prices are as follows:
15" Laptop Muzetto – 15.5"x11.75"x2.7" (2lbs) – $259
13" Laptop Muzetto – 14"x11"x2.5" (1.7lbs) – $239
11" Laptop Muzetto – 12.25"x9.75"x2.25" (no weight given) – $219
10"  Portable Muzetto – 11.5"x9.3"x2" (1.1lbs) – $199
Personal Muzetto – 10.5"x8.5"x1.5" (14oz) – $179
The iPad will fit in the 10" Portable or in a case in the 11" Laptop Muzetto. The MacBook Air will fit in the 11" (11.6" MBA) or the 13" (13.3" MBA). Others will fit based on-screen size.
Advertisement