Verizon and Apple announced that the iPhone 4 is coming to the carrier February 10 with one feature that trumps what AT&T is offering – a mobile hotspot built-in. A mobile hotspot is a device that shares a wireless broadband Internet signal with, in this case up to 5 other devices. This means that while the iPhone 4 has a signal from Verizon's 3G (also called EVDO) network, it can share that connection with a laptop via Wi-Fi, an iPad and three other devices while still being able to get a connection itself. The new high speed (4G) hotspots announced at CES 2011 from Sprint and Verizon were given our Best of CES award in the notebook accessory category. This iPhone will have similar functionality, but with the older 3G network.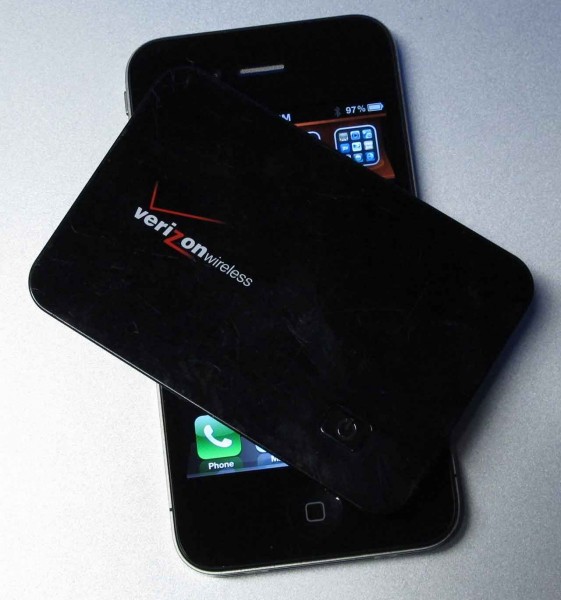 After the announcement, Andy Inatko of the Chicago Sun Times and MacBreak Weekly asked a Verizon representative on hand during Twit.tv's live coverage of the event if the data package would be truly unlimited, framing it by asking if he could stream Netflix for 3 days straight without incurring other costs and the rep said he could. He also learned, and Tweeted, that it works via Bluetooth and USB. This makes sharing the iPhone 4's Internet connection truly valuable. Unfortunately we also learned that the iPhone on Verizon will not work on LTE

LTE is a higher speed network offering speeds potentially up to ten times faster than Verizon's 3G or EVDO network.
Having the hotspot feature on the iPhone 4 will make getting the most out of the data plan you're already paying for  much more convenient. One problem is that it could also deplete the phone's battery faster. We will have to wait to see how much the iPhone 4's battery will last with the feature turned on when it finally ships in February.
Best Buy recently offered a free Mi-Fi with the purchase of an iPad. People who took advantage will likely wish they hadn't.
Advertisement