The new Mac App Store is coming tomorrow. It is intended to provide a store for Mac OS X computer users to buy applications much like the iOS App Store does for iPad, iPhone and iPod Touch users. Apple already announced the date, but we do not know the time.
One rumor from The Loop says that a source revealed to them it would be at Noon ET or when the employees of Apple arrive at work in Cupertino, CA which will be at 9:00 AM PT.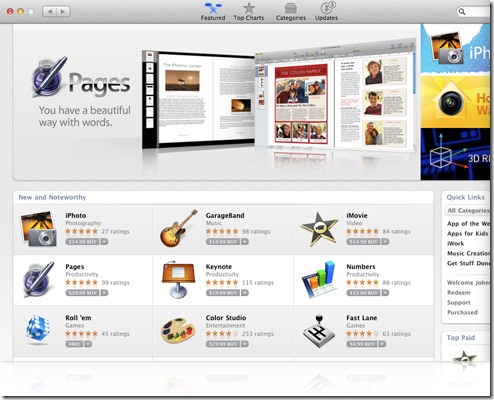 If that is accurate, users will be able to check out the applications which developers have been submitting already for some time. As the image above from Apple's site suggests, new versions of iLife, already released, and iWork, yet to be released, will be included. The apps will be categorized much like the current iOS App Store with things like Business, Entertainment, and Games to name a few.
The question on many minds is whether Apple will eventually lock down the OS X environment so that only App Store software can be installed without a hack as is the case with iOS. With the launch tomorrow the Mac App store will allow users to get easy access to programs, but they will still be able to install apps that aren't from the App store.
Advertisement