AllMyApps.com chose to announce their Windows App Store on the same day that Apple announced it's official launch of the Mac App Store on January 6, 2011.  It is not really a new store, but they are trying to get attention in the wake of the Apple announcement.

All My Apps may not be as enticing as an official Windows app store might be in comparison to Apple's Mac App Store, but it does offer Windows users similar features and an easy place to locate apps for their machines.
The benefits of such an app store for the Windows side of the PC world is that the service promises the applications will be free of spyware, viruses or other malware. It is also easy for someone to quickly find and download apps for a new computer or one that has been recently restored to factory state after a crash or virus infection. Also the service promises to allow users to send apps via email to others or post widgets in a blog about favorite apps discovered in the store.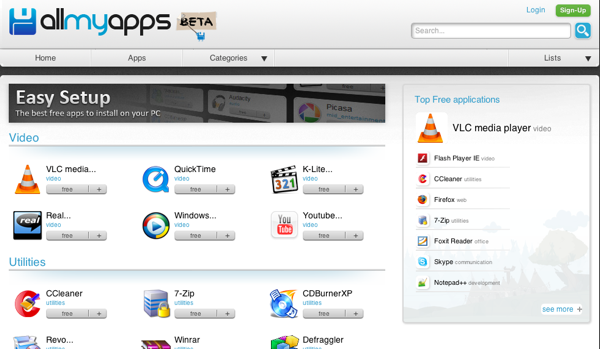 The store has a lot of the popular apps one might be interested in downloading, including things like VLC Media players, Firefox browser, OpenOffice.org office suite, Winrar archiving and expanding app, and hundreds of others. They have the apps categorized by type such as utilities, office, video, etc. There is one category called "Easy Setup" which are apps that are, as the name suggests, easy to install. There are many free apps and even trial versions of paid apps.
Here is an official video demo from the site:
Advertisement