The Google Chrome Notebook, named Cr-48, has finally been unveiled at the same event where Google announced Chrome OS and the Chrome Web App Store. The Cr-48 isn't really a consumer available laptop, but it is the first laptop to run the Chrome OS and a similar model will be available for purchase by consumers in mid-2011. If you are interested in getting a Chrome laptop now, there are some steps you can take to apply for the pilot program which is essentially a large public beta.
The Chrome Notebook Specs are as follows:
12.1″ display
Full size keyboard
Large mousepad
Built in 3G cellular data connection on Verizon Network (your choice internationally)
802.11n dual-band WiFi
8+ hours of active use
8+ days of standby
Webcam
Flash storage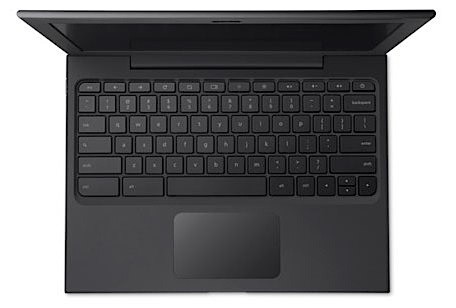 Keyboard Innovation
In addition to running Chrome OS, there are a few other special items of note on the Cr-48 notebook. First, the keyboard has ditched the CAPSLOCK key in favor of a search key. While this may be a breaking point for some users, it's one we welcome and one we feel reflects the changing needs of most users. Think how often your co workers need caps lock, now think how often they need to search for something. Now think how much free time you would have if they learned how to search for themselves. Sold yet?
Built in 3G With Free Data
Next up is built in 3G from Verizon with 100MB of free data every month for the first two years you own the Chrome Notebook. If you need more data you can buy an unlimited daypass for $9.99 or a specific amount of data at undisclosed prices. The Chrome OS is designed to switch seamlesly between WiFi and 3G so the hope is that the 100MB of data will suffice for many users.
Offline Access
Will the Chrome Notebook work offline? Yes, it will. Many of the apps you can download from the Chrome Web App store will be able to work offline including Google Docs and others. You can download and test out Chrome Apps on computer right now with the Chrome browser.
What It's Like to Use a Chrome Notebook
How to Get a Chrome Notebook
The Cr-48 Notebook is already rolling out in many big businesses and Google has begun shipping the device to winners of a Facebook contest. If you want early access to the Chrome Notebook you need to apply for the pilot program. To do so, you just need to answer a few questions about your computer usage and if you want you can submit a video explaining why you would be a special Chrome Notebook tester.
Google Chrome Notebook Pics
The current Google Chrome Notebook Cr-48 is an all black everything device with no logos and a minimalist design that calls out to us. Check out the gallery below to see if you agree.
Advertisement