Do you use more than one PC to access your Gmail or Google account?  I am addicted to checking my email several times a day and, since I don't have data plan on my phone, this means I check Gmail whenever I get to a PC with an Internet connection. I normally use 3 or 4 different machines per day to check my email, which often leaves me wondering if I have signed out of my account. Thankfully Google makes it easy to find out where I have logged in from and if I need to log out.
This is especially important because Gmail accounts have a lot more personal information than just recent emails. With access to your Gmail account, others can gain access to your bank accounts, private phone numbers, tax returns and social network accounts, not to mention other Google services you use. If you forget to log out of your Gmail account from a computer that's accessible by others, it is easy for someone to get this information and worse. With a little tweak, they can have all of your future incoming mail forwarded to another email address without your knowledge.
Follow this guide to get keep your email and personal information safe. This security feature isn't new to Gmail, but since most people don't know that it exists we thought we'd give it some attention.

Your account activity, including where you have logged in from recently will be shown at the bottom of the page. In this case, the last activity on my Google account was from same computer and it was 54 minutes ago so I have nothing to worry about.  To read more about your last activity please visit Google's help page about last account activity.

If your Gmail or Google account is open in another location then you will see message something like this. This doesn't always mean that your account has been compromised, but if you haven't been in another location recently you should investigate further. You may have simply forgotten to log out from another computer in your home or office.
You can see more details about your account activity by clicking on details link which will show you all concurrent sessions and open sessions along with IP address and approximate location. An IP address is a numerical number assigned by Internet service providers to each Internet connection. If you want to know the IP address of a computer you use often you can visit WhatIsMyIP.com.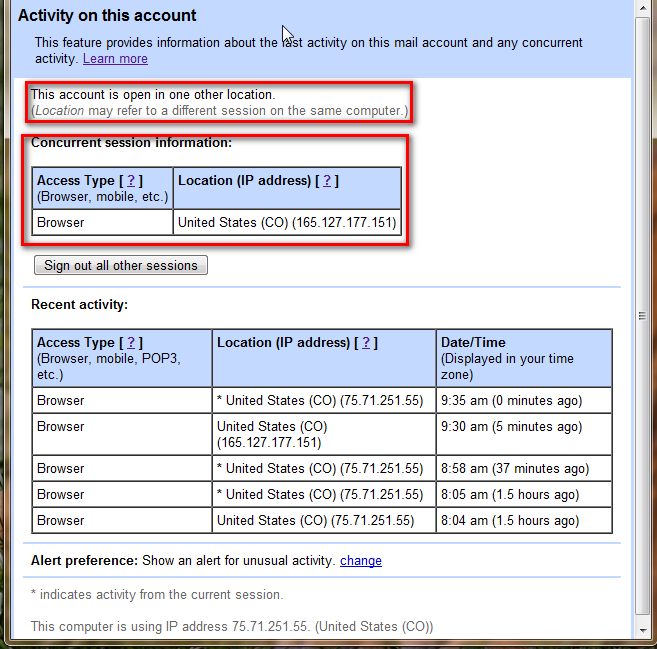 In the same window under recent activity you will find the access type, location (IP address) and the Date/Time. This can help identify any unauthorized activity.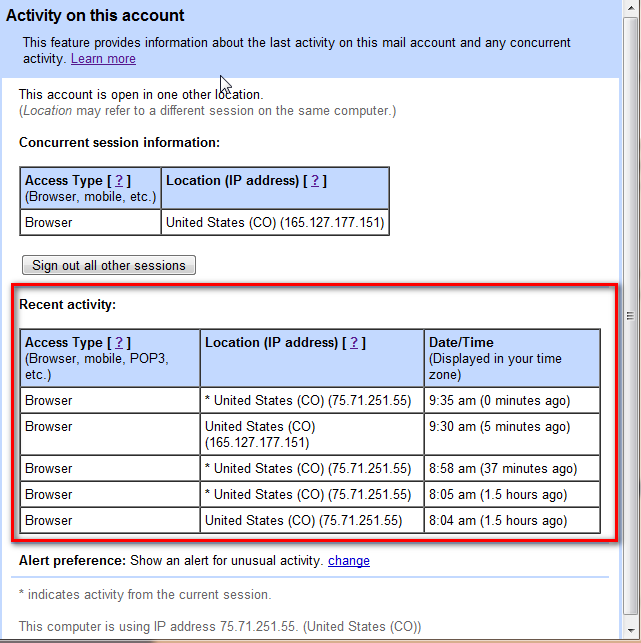 Access type: This tab will let you know if your Gmail or Google account was accessed from a web browser, mobile device, POP3 or IMAP.
Location (IP address): This tab will tell you where and what IP address access this account. Please note that you might find multiple entries for same computer/machine if Gmail or Google account is opened in two different sessions. The location given in this column is approximate as it's limited to showing country and state (if available). Keep an eye out for states far from your hometown and for more IPs than you expect. For example, if you only sign on to Google from home, but see five different IPs, you may have a problem.
Date /Time: This tab will tell you when your account were accessed from each IP.
This screen can also tell you what your current IP address is and let you change the alert preferences. This option will alert you in case of unusual activity,  like if your Google account was accessed at two different countries in the same day.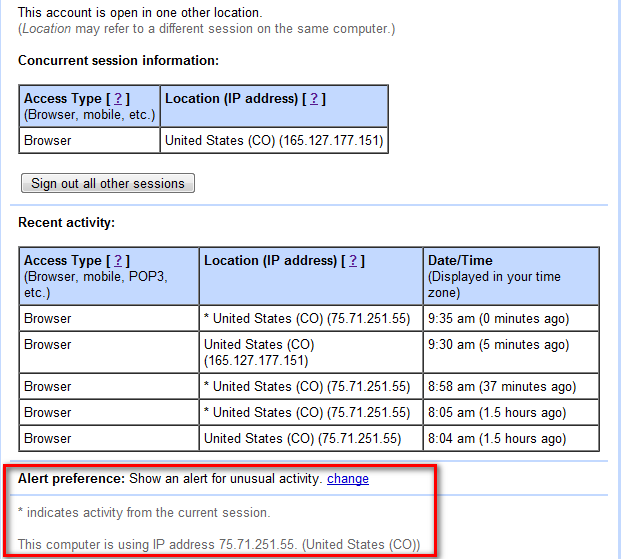 If you do leave your account open on a public computer, you can sign out from all other sessions by clicking on 'Sign out all other sessions' button.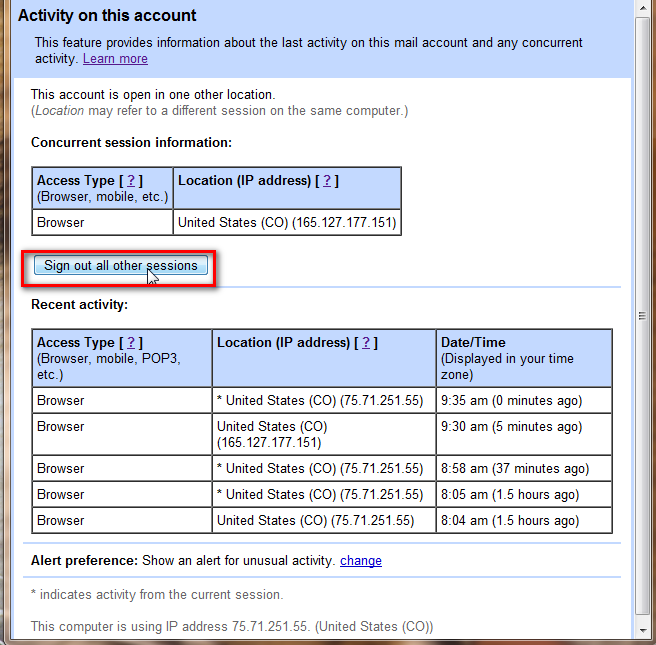 After signing out,  you will see a message like the screenshot below confirming that you have been logged out of Gmail remotely.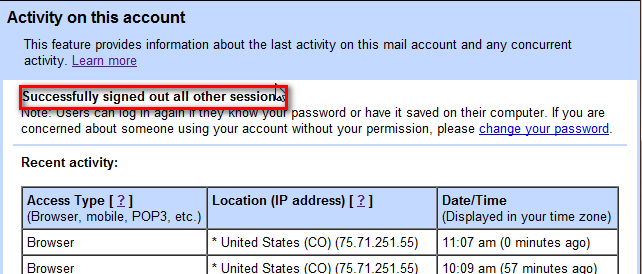 If your Gmail account is not open at any other location you will screen like the image below.

If you suspect that your Gmail or Google account has been compromised, we recommend changing your password immediately after logging out of all other locations.
Advertisement