One of the easiest ways to boost your web-productivity is to ensure that you aren't using a painfully slow browser. Sadly, most computers come bundled with what is commonly recognized in the tech world as one of the slowest modern browsers (and the one with the least web-standards compatibility), Internet Explorer. Older versions of Internet Explorer are also very insecure by today's standards. Boosting your web productivity is as quick and simple as downloading a new browser (for free) and installing it. A faster browser will save you time in everything that you do on the web. You can even install all of them and find which works best for you. After checking out a new browser, find out how to sync bookmarks across multiple computers from one of our other helpful articles.
First, a simple overview of the browser, courtesy of Google:
Now let's take a quick look at three of the major browsers (click on the title text to be taken to the official website):

Firefox was one of the first browsers to break Internet Explorer's dominating grip on browser market share. It was the first to really demonstrate that the browser can provide a lot more functionality than a simple URL bar, and that it could be much faster. They also helped make the web better by ensuring that their browser is highly compatible with web-standards. Without Firefox, we might still be using Internet Explorer, and that thought alone is quite frightening.
One of Firefox's defining features is it's ability to run add-ons, which are extra bits of software that you can download to provide additional functionality within your browser. There is a large library of add-ons, and one can find anything from a twitter client to an in-browser blog writer.
Firefox is available for Windows, Mac, and Linux.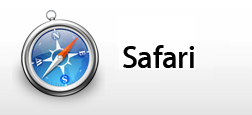 Apple has long been using Safari as the default web browser on Macs, but in 2007 it was announced that Safari would be made available for Windows systems as well. Since then, Apple has continued to update it, keeping it on par with Firefox and Chrome performance. One of it's defining features is the unique visual way that it displays your top visited sites and browser history.
Safari is available on Mac and Windows.

Google Chrome was released in 2008 for Windows. Because much of Google's business relies on the web, they decided that making a fast browser would help their users use their products, and ultimately help their company. Thus, Google Chrome was born and it's zippy speed challenged the status-quo, leading to a brief period of intense competition between the major browsers which resulted in a raising of the bar for browser performance. Two of Google Chrome's defining features are simplistic design (with the ultimate goal being speed) and extension support (similar to Firefox add-ons).
Chrome is available on Windows and is currently being developed for Mac and Linux (test versions are available for download).
Advertisement