Today, Google announced the Nexus S smartphone, which was co-developed by Google and Samsung. The Google Nexus S will serve as a showcase for Google's popular Android mobile operating system.
The Nexus S features a 1 GHz single-core Hummingbird processor, a curved glass display, near-field communications (NFC) sensor, WiFi tethering, WiFi calling support, gyroscope, 16 GB on-board memory with 512 MB RAM, and T-Mobile support. Along with the plethora of sensors and radios found on high-end smartphones such as Bluetooth, WiFi, light sensor, proximity sensor, accelerometer, haptics feedback, and digital compass, the Nexus S will also have a 5-megapixel camera with Flash that's capable of 720p HD encoding. Additionally, a front-facing VGA camera is also on the device.
Users interested in the Nexus S can visit google.com/nexus for the official page.
The device will be available beginning on December 16th in the U.S., either with a two-year service agreement from T-Mobile for $199 or sans contract and unlocked for $529. In the U.S., customers can get the Nexus S online, through Best Buy, or Best Buy Mobile.
Prospective UK customers can start purchasing the Nexus S on December 20th, in time for the Christmas holiday season, through Best Buy UK or Carphone Warehouse.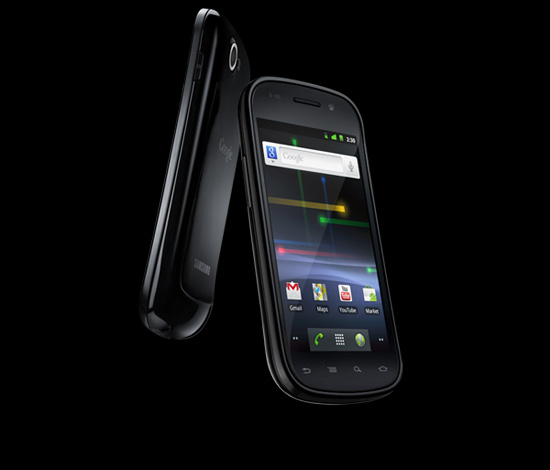 Unfortunately, though, as a 3G device, the Nexus S will only support T-Mobile's HSPA network in the U.S., not the higher speed HSPA+ network, which the carrier is marketing as "4G" as it offers speeds comparable to nascent technologies such as LTE and WiMax. The Nexus S supports HSDPA at 7.2 Mbps and HSUPA at 5.7 Mbps.
Also, unlike the crop of Android smartphones rumored to be coming in 2011 which will utilize a more modern ARM Cortex A9 processor, like the NVIDIA Tegra 2 series, the Hummingbird CPU on the Nexus S is the older ARM Cortex A8; ARM Cortex A9 chips come with dual-core support.
The device will debut with Google's next generation Android 2.3 operating system, also known as Gingerbread, which brings a number of improvements to the Android environment: "Nexus S is the lead device for the Gingerbread/Android 2.3 release; it's the first Android device to ship with the new version of the Android platform."
While specs for the Nexus S may seem similar to Samsung's Galaxy S series, the device eschews Samsung's TouchWiz proprietary user interface on the Galaxy S in favor of a more vanilla build of Android on the Nexus S befitting of the Nexus moniker. According to the company, Nexus is about "bringing the pure Google experience" to Android so that users will "always get the latest upgrades." Other benefits of the Google experience include: "unlocked, unfiltered access to the best Google mobile services and the latest and greatest Android releases and updates."
Via: Google
Advertisement