On Black Friday this year BJ's Wholesale Club is going to offer the HP DV6-3124nr for $499.99, which is $100 off their current price. Other retailers are selling it for even more, so this could be a good deal. So lets see what's included in this 15.6-inch laptop.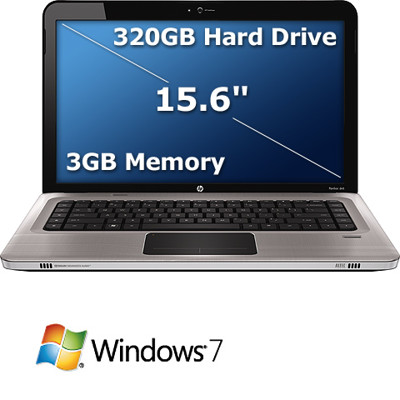 The foundation of the computer is an AMD Turion II Dual-Core Mobile processor, which is not the fastest processor but it is no slouch either. The computer also has 3GB of DDR3 memory, a little on the low side these days, and a 320 GB hard drive spinning at 7,200 rpm. That is actually a nice storage option, although there are larger capacity options, but not many are faster unless you go with an SSD.
The 15.6″ display has a pretty average resolution of 1366×768. And the video card powering it all is an ATI Mobility Radeon HD 4250 graphics with 128MB of memory and up to 1,533MB total graphics memory when you add shared memory. That's not bad either. These are average specs for a laptop, but at $500 you couldn't expect much more. With the Dolby Advanced Audio and Altec Lansing speakers, this might do as a decent multimedia viewing entertainment computer with light gaming and watching DVDs on the included DVD burner or online video. But it is not a gaming or video powerhouse at all.
Below is a video of some HP laptops, one of which is the DV6 series included in this deal:
Other ports and connections include the following: 3 USB 2.0, 1 USB/eSATA combo, HDMI, VGA port, the Ethernet port mentioned above, as well as a microphone and headphone jacks.
The computer has a 6-cell Li-Ion battery but we don't know how long it should last. But one thing you can be sure of; if they don't advertise the battery life, it is probably not great.
This is a good all-around computer useful for someone who wants to enjoy some videos, moderate to light gaming, and of course office and online tasks. We would recommend this as a computer to use around the house or in a dorm. But it is not going to be a really portable system.
Advertisement