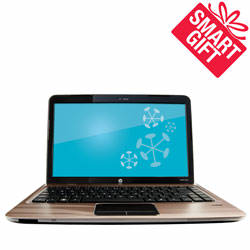 Office Depot is offering a deep discount on the HP dm4-1160us on Black Friday. While this laptop is much more expensive than the bargain basement doorbusters being sold for $300 or less, the dm4-1160us is definitely worth a close look if you have the budget for it.
The dm4-1160us is a configuration of the HP Pavilion dm4. The HP PAvilion dm4 has a very solid build quality for a consumer laptop. This laptop's shell is constructed of metal, rather than plastic like most of its competitors.
The HP dm4 has a 14″ display and is much more portable than the 15″ laptops being offered on Black Friday. It also comes with the latest Intel technology, which means it performs much better and lasts longer on a single charge.
Here's a look a closer look at the HP Pavilion dm4, which was introduced by HP earlier this year:
While many Black Friday laptop specials are cheaper, many of them are stripped of entertainment and convenience features. That's not the case with the HP Pavilion dm4-116us. It comes with Dolby Advanced Audio for a dramatically improved audio experience when watching movies, playing games or listening to music. A multi-format DVD player is included.
The HP Pavilion dm4-1160us comes with 4GB of memory, a 500GB hard drive, 2.66GHz Intel Core i5-450M processor and Intel HD graphics.
The Pavilion dm4-1160us has a full compliment of ports, including three USB 2.0 ports, one of which doubles as a high-speed eSATA port for moving large files to a backup drive.
This Black Friday laptop weighs in at just 4.4 pounds, making it much more attractive than the heavier $350-ish laptops being offered by Office Depot and others.
Visit the Notebooks.com Black Friday page for more Black Friday laptop deals and guides on what to look for in a laptop this holiday season.
Advertisement