Taking styling cues from one of the most recognizable sports cars and putting them in a notebook without looking cheesy is a tough thing to do, but with the ASUS Lamborghini VX6 Eee PC, ASUS has succeeded in creating a beautiful looking notebook that carries some of the refinements of the Lamborghini.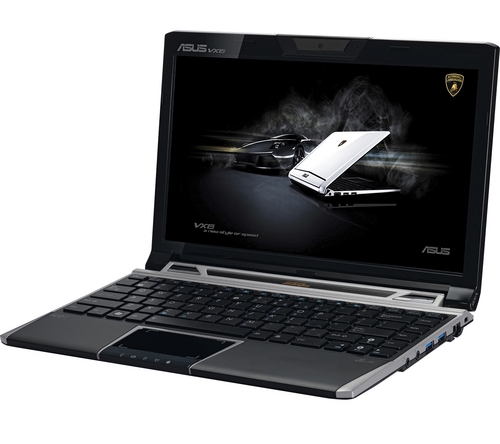 The ASUS Lamborghini VX6 Eee PC is a 12.1″ ultraportable notebook powered by a 1.8GHz dual core Intel Atom D525 processor which is supplements with NVIDIA ION 2 Graphics. In addition to the main power the VX6 has 2 GB DDR 3 RAM, USB 3.0, HDMI out and a sound system that has been engineered by Bang & Olufsen.
The 12.1″ display supports a 1366 x 768 resolution, the notebook runs Windows 7 Home Premium and with the 6-cell battery weighs in at 3.31 pounds.
The use of an Atom processor may not scream "Lambo" to you, but we expect that the dual core Atom CPU combined with a NVIDIA ION GPU will yield performance that exceeds a notebook with just an Atom processor. That said, we'll have to reserve final judgement until we see some reviews coming out.
The ASUS Lamborghini VX6 Eee PC retails for $699 in the U.S. but you can find it as low as $674 with free shipping at B&H, according to Liliputing.
Here's a video from ASUS showing off the ASUS Lamborghini VX6 Eee PC with a collection of glamour shots and engine revving.
Via Liliputing
Advertisement