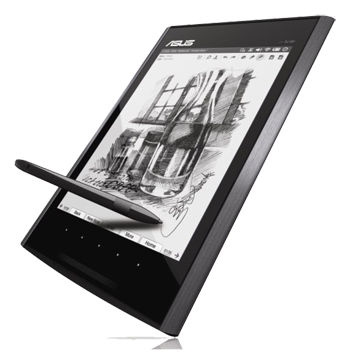 The ASUS Eee Note EA800 is a student focused tablet the primary purpose of which is e-reading and taking notes for class.
It looks like an interesting device. The screen is a grayscale screen with an active digitizer. The folks at Netbooknews.com were able to get their hands on the device and showed it off in a video unboxing and hands on.
They were given the device by ASUS along with the English version of the Linux based operating system. it will be interesting to see what happens when this is released in the American market and giving a US price. For now, it has been priced at the equivalent of $230USD in Taiwan, according to Engadget.
The specs include an 8″ 1024×768 grayscale screen. The battery is reported to last about 13 hours or 10 hours with Wi-Fi active. There is also a built-in camera which takes color photos despite the grayscale screen. And it can act as an audio player and recorder with a mic and headphone jack. It can handle book files in EPUB, PDF and TXT formats.
The ASUS Eee Note EA800 won't be available in the States until early 2011. For now enjoy their video below:
Advertisement