If you're looking to make Windows 7 run even faster you've come to the right place. This guide is the third installment of our Speed up Windows 7 Series and focuses on improving performance by optimizing startup.
Startup Performance
We install a lot of applications on our computers. Sometimes, those applications will place special files in areas of the operating system such as the Startup Folder to make launching the application faster. Sometimes a program might even create a special Service that prepares itself when Windows is starting up. If you have a lot of these types of programs installed, some of them can have an adverse effect on your system's performance.
To resolve this, you can simply launch the Microsoft Configuration Utility (msconfig). MSCONFIG provides a host of options for managing how your computer starts up and also for diagnostic purposes when your system might not start properly. To launch MSCONFIG, click Start, type: msconfig.exe, hit Enter on your keyboard, or click msconfig.exe result in the Start menu.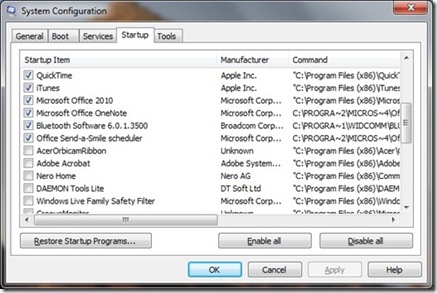 System Configuration Utility (MSCONFIG)
When msconfig is displayed on your screen, you will see the main interface, General (tab), which manages how your computer starts. The main tab we need to go to is Startup.
On this tab, we will see a list of items that startup with the system when Windows is loading. Now, there are some programs in here that are essential, but some might not be needed when the computer starts, check out the following table of some of the applications I have that load programs during start up and the ones I have unchecked:
| | | |
| --- | --- | --- |
| Program | Description | Check or Uncheck |
| Kmaestro (x64) | This program is associated with my sound card, so I will keep it of course. Yours will be listed under a different name, for instance Creative Audio products might be listed as Creative or diagent. | Check |
| Microsoft Security Essentials | This is my security program of choice, yours might be different, you can easily identify your security software under the Manufacturer column, Symantec, Microsoft, McAfee, Kaspersky, ESET or a number of others. | Check |
| Microsoft Windows Operating System | This item loads commands associated with essential areas of the system such as Program Files and Windows Directories, definitely keep these checked. | Check |
| Microsoft Encarta Dictionary | If you have Microsoft Encarta installed, it also installs a program called Encarta dictionary. I use it a lot to make sure I spell words correctly. If you don't use it often, then you can uncheck it. | Uncheck |
| Logitech | A manufacturer of various input devices such as Mice, Keyboard, video cams and Game controls, this is often associated with an input device of some kind, definitely leave it. | Check |
| Quicktime | Apple Computers multimedia software for viewing and listening different types of content such as movie trailers, it's rarely used, but usually comes bundled with other popular software from Apple such as iTunes | Uncheck |
| Bluetooth software | This is often used by devices such as cell phones to transfer files and some wireless input devices such as keyboards and mice to communicate with the system. | Check |
| Adobe Acrobat | Used for viewing Adobe's Portable Document Format (PDF), this program is not something you are regularly doing I am sure and having it checked does not necessarily add any convenience to viewing PDF's any faster. | Uncheck |
| NERO Home | Aheads popular program used for burning content to optical disks, Nero Home is just a quick way to access certain aspects of the program. Personally, its pointless, you could easily at a Shortcut to the Taskbar. | Uncheck |
| iTunes | iTunes is a very popular jukebox software created by Apple Inc. In addition to being a music player, its used with the ubiquitous iPod, one of which I own. Personally, the faster this program starts up, the better for me. If you don't own a iPod or iPhone, having it checked for start up does not add any significant benefit unless you are using it as your default music player and you have a large library. | Depends |
| Yahoo! Messenger | Popular instant messaging, I rarely use it, but even if I have to, storing it in your Notification Area and startup items is just using up precious CPU cycles and memory, definitely remove it. If you do use it, simply pin it to your Taskbar. | Uncheck |
| Daemon Tools | I use this program to mount .ISO files which are virtual disk images of programs that are offered in that format. So instead of installing from a physical DVD or CD I just point to the .ISO file of that program and it shows up like a regular disk in the Computer environment. This is not a program used by the average PC user, even if you are not the average PC user, having it in your start up is not gonna load those .ISO files any faster. | Uncheck |
| Windows Live Family Safety | Installed as a part of the innovative suite of products and free services – Windows Live Essentials, it provides parents with thorough parental control capabilities that go beyond what is included in Windows 7's Parent Controls, allowing you to keep track of your child's online activities. If you are a parent who shares a PC with a child and already utilize Windows 7 Parental Controls, then definitely keep this checked. | Depends |
| Groove | Included as a part of the Microsoft Office Enterprise and Ultimate edition suites, Groove is used for collaboration with colleagues, team work and brain storming. If you are not involved in such activities, then you can certainly uncheck it. | Uncheck |
| Java(TM) Platform SE 6 U12 | Developed by SUN Microsystems, Java is a popular applet used by many applications on the Internet or desktop. Certain programs require that Java is installed before they can work. Having it as a Start up item I personally notice does not add any significant benefit except alert you to new versions of the applet. | Uncheck |
| RealPlayer | An alternative media player juke box, I use it to download videos from the Internet. Having it as a start up item is unnecessary. RealPlayer has a tendency to pop up annoying notifications too. | Uncheck |
| VMware Workstation | I use this program to manage virtual instances of other operating systems. This program simply enables quick access to the VMware interface. I don't have it checked and the program continues to function just fine. | Uncheck |
| OneNote | Another Microsoft Office family program, it is used for note taking, organization and management of information. It's also a handy application if you use a Tablet PC or computer with inking support. If you are in need of those capabilities, I would leave this unchecked. I use it to gather snippets of information I come across on the Internet or need to take a note of. So even though I don't own a Tablet, OneNote still comes in handy. | Depends |
There is my list, of course yours will vary because of the hundreds of millions of configurations that exist and the millions of applications available for Windows. If you are unsure about a program, do a search on the Internet about it before unchecking. Keep a small inventory of the programs you are using, look in the notification area of the Windows Taskbar to see what is displayed. Hover the mouse pointer over the icon, which will display a balloon about that program. Also, do a backup before unchecking anything. If you do get confused, the Startup tab displays a button near the bottom of the window called Restore Startup Programs…, which will restore the startup items to their default configuration.
Other things you can do to keep your system running tip top include making sure Windows, your applications and Security programs are updated.
Uninstall applications you are not using anymore (click Start, type: Programs and Features, hit Enter. Right click a Column, click More.. > Under Details check the 'Last Used On' box > click OK. This will give you a clear idea of which programs are regularly used and which programs are not.
You can also move files such as videos and pictures that are not in use to a secondary storage medium such as an external hard disk or DVDs. Windows 7 includes the ability to remove bundled components that you are not using from the Turn Windows features on or off component, to learn more check out the following article here
This is the third part of our look at how to speed up your Windows 7 computer. You can view other guides by checking out our Speed up Windows 7 Series.
Advertisement