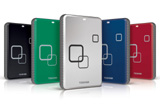 Toshiba launched a new addition to the company's line of Canvio external hard drives this week. The Toshiba Canvio Basics external hard drives come in 750GB, 500GB and 320 GB and are available in five different stylish colors and accents.
The Canvio Basics drives are designed for average home users looking for an easy to use and portable storage solution and ship with NTI backup software to allow users to set up  backup solution without an additional purchase; though users should be storing their backed up data in more than one location with a tool like Carbonite to protect data in the event of a disaster.
The Canvio Basics pricing is as follows:
$79.99 for the 320GB Canvio Basics
$99.99 for the 500GB Canvio Basics
$119.99 for the 750GB Canvio Basics
The Canvio Basics drives come with a three-year warranty and use USB 2.0 to connect to your computer. Users who need to move files faster and have a USB 3.0 compatible computer should check out the recently launched Seagate 1.5TB GoFlex Drive.
Advertisement