As Xavier mentioned in his hands on look at the new Dell Inspiron 14z it's almost time for the Christmas shopping season. For dealseekers that means but one thing, Black Friday! It's only September but there's already a collection of 2009 Black Friday Predictions to help you make your shopping lists.
These 2009 Black Friday Predictions come to you from the team at DealNews.com which managed an 82% accuracy rate on their 2008 Black Friday Predictions and have an uncanny ability to know what's going to be on sale. How good are these guys? Before I spoke to the Dan de Grandpre, the CEO of DealNews.com, I thought I knew about retail sales but this guy puts me to shame. I'm pretty sure he eats deals for breakfast and washes them down with a heaping glass of retail trends and that's just the start.
Dedicated Black Friday shoppers will definitely be interested in the entire roundup but for anyone looking to pick up a great deal on a notebook, Macbook, monitor or accessory here's the scoop. Remember, this is just a brief sampling of the many 2009 Black Friday Predictions made by the DealNews.com staff.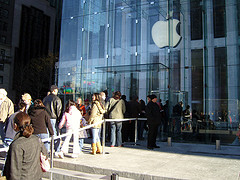 Notebooks – Expect a low end netbook for $129 and well equipped (4GB of RAM, Core 2 Duo) for $399.
Macbooks – You should see 5-10% off of the latest Apple Products and Free Shipping which is a $49 value on its own.
Monitors – If you've been looking for a 24″ monitor then November 27th is the day with prices expected to hit $145.
Back it up – You knew this was coming, a 1 TB external USB hard drive for just $49.
Q &A with Dan de Grandpre about Black Friday:
Q. Not content to just tell you to be on the lookout for a well equipped notebook on Black Friday we asked Dan where he thinks you'll be able to find the best high end laptop deal during the 2009 Black Friday season. So Dan, should we look to a retailer like Best Buy or will a custom order from a manufacturer like HP be our best bet this year?
A. According to Dan while the brick and mortar retailers like Best Buy and Staples will have "ridiculous" deals on laptops, if you're looking for a higher end rig, "odds are the best deals will be online." He did caution that Black Friday may not be the best time to purchase a high end notebook since it is typically focused on super cheap products.  Your best bet is to do your research and look at how big the discount is. You may end up finding that the best deals come during the Black Friday Season rather than on the actual day itself.
Q. Longtime readers will remember the troubles that many shoppers including our own Xavier Lanier had trying to take advantage of the 40% CashBack offer that Live CashBack, now Bing CashBack, offered for HP.com. Given these troubles do you expect to see similar deals this year? Have retailers worked out the bumps?
A. Dan still expects to see cashback deals specifically ones involving PayPal but cautions that you should, "only buy if you like the price before cashback." This is similar to the way I used to view mail in rebates and makes a lot of sense when dealing with any type of rebate.
Well there you have it, a first look at what Black Friday 2009 has in store for technology addicts like us. Be sure to keep your eyes on Notebooks.com because we'll be bringing you all the Black Friday information you'll need as we approach the most anticipated shopping day of the year!
image via jardenberg
Advertisement