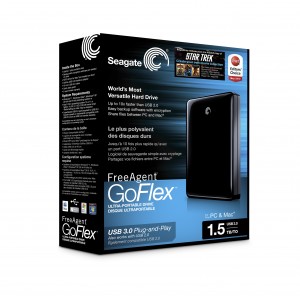 Seagate announced the 1.5TB FreeAgent GoGlex portable drive. The portable drive comes with a USB 3.0 cable and is compatible with Seagate's GoFlex eSata and FireWire 800 adapters, allowing it to transfer files via the quickest connection on each user's Mac or PC.
Seagate GoFlex portable drives with lower capacities come with USB 20 cables. The USB 3.0 cable allows large files, such as HD movies to be copied from a laptop, equipped with a USB 3.0 port, about three times as quickly as using a USB 2.0 connection. Unfortunately, most laptops currently ship with only USB 2.0 ports. USB 3.0 connections will become more common by next year and the USB 3.0 cable is backwards compatible, which means it'll work with any computer with a USB 2.0 port.
Seagate has teamed up with Paramount Digital Entertainment to offer specially marked 1.5TB GoFlex portable drives which come with 20 movie files. Customers can watch Star Trek free of charge, but the other 19 movies must be paid for. The movies can be watched on any Windows PC or HDTV that's hooked up to a GoFlex TV HD media player.  The Paramount movies will be added to other GoFlex drives starting next month.
As with other GoFlex drives, the 1.5TB version is compatible with both Macs and PCs. It ships with a special driver that allows it to store files from both Macs and PCs by maintaining the NTFS format. This offers flexibility for homes with both Macs and PCs. The downside of using this hybrid mode is that Mac users can't use this drive for backing up with Time Machine. If you want to use this drive for Time Machine, you can format it as HFS+, as is explained during the drive setup process.
The  1.5 TB FreeAgent GoFlex drive has an MSRP of $249.99. Seagate is selling it online for $229.99 and we expect to see it even lower online. Visit our price comparison tool to find more pricing info.
Seagate is giving away a 1.5TB GoFlex ultra Portable Drive AND an Asus netbook with a USB 3.0 port, visit Seagate's blog and tell them how you'd use USB 3.0.
Advertisement