Pogoplug is adding integrated wireless to their next generation of the networked attached storage device that adds a cloud component for users' storage needs. And they are also changing their iconic pink and white exterior to a more subdued black and white. Cloud Engines announced the black and white Pogoplug Pro today.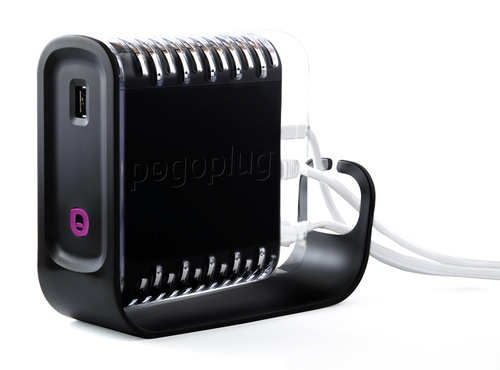 In case you didn't know, a Pogoplug is a device that attaches to your network, either via an Ethernet cable or now via Wi-fi. Then a user attaches up to four USB storage devices to the Pogoplug to give the user a network backup option and the ability to stream any of the content over the Internet to other Internet attached computers or mobile devices via the My Pogoplug web site or one of a few different apps for iOS, Android, BlackBerry or Palm.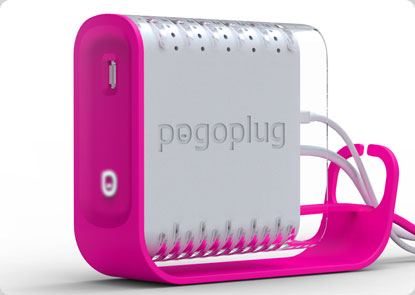 The major difference between the current generation Pogoplug devices is color and the way they add wireless. Previous Pogoplugs were pink and white, like the photo directly above, compared to the new Pogoplug Pro which is now Black and white (see the top photo) like the recently announced Pogoplug Biz, which was an enterprise solution that added special features for business customers, like branding and customized domain names. Also neither of the previous versions had integrated wireless. To get wireless the customer had to add a USB Wi-Fi dongle. No longer; it is built into the device.
There will still be printing capability for owners of either Epson or HP printers made since 2005. This feature and the Wi-Fi networking was just added to the older model in the last month. So now a consumer can put their Pogoplug anywhere that has Wi-Fi or wired network access. The files stored and the printers attached will be accessible from the home or over the Internet so long as the person's network is also connected to a high speed Internet source, like cable or DSL.
The new black and white Pogoplug Pro will be available at Best Buy for $99.
Check back soon for a full review of the new wireless and printing features of the Pogoplug.
Advertisement