Iomega introduced a new, slimmer lineup of eGo portable hard drives that offer a lot of protection. The new drives are less than a half-inch thick and weigh less than seven ounces. They come wrapped in anodized aluminum shells and can be safely dropped from a height of 51 inches.
Iomega will sell an even more durable version of the drive starting in June. The 500GB  eGo BlackBelt comes with a Power Grip Belt and Iomega's Drop Guard Xtreme, which make it possible for the drive to survive a drop from over seven feet.
The drives are available in 250GB, 320GB and 500GB capacities. You get to choose between  ruby red, silver (320GB only) and midnight blue (320GB) only.
Iomega's new eGo hard drives start at just $84.99.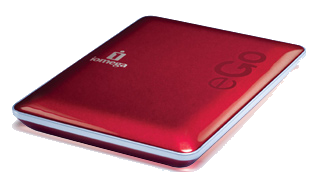 Advertisement