Boomerang for Gmail, created by Baydin, is a unique and useful plug-in that allows you to choose when you want to send and receive email. Schedule specific emails to be sent at a designated time, or choose to receive specific emails at a later date.
If you get an email that doesn't require your immediate attention, you can quickly choose to have the email sent to you at a later date or time. Simply click the Boomerang option in the Gmail window and select when you would like to have the email received. This could help you manage your inbox more efficiently if you are receiving a high volume of emails daily.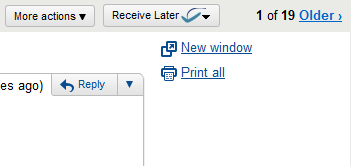 Even more useful is the send later aspect of Boomerang for Gmail. When composing a message, click the Boomerang option in the Gmail window and designate when you want that specific email to be sent.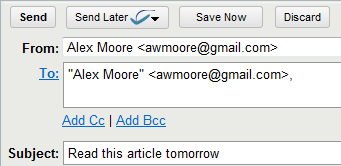 Brad McCarty of The Next Web points out useful applications for Boomerang for Gmail.
Paying bills on time
Scheduled email in other time zones
Send a birthday message while it's on your mind
Reminding yourself to follow-up with a client
Unfortunately, Boomerang for Gmail is a closed beta and is available by invitation only. Click here to request and invitation. Also, it will only work in Firefox and Chrome web browsers. There is no word on an official public release date.
Via The Next Web
Advertisement