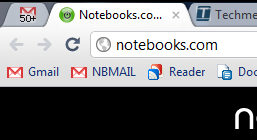 Gmail just released a new Gmail Labs feature that allows users to place the unread count of their Gmail messages in the Gmail Favicon. This allows users who want to pin their Gmail Tab a clean and easy way to see how many messages they have unread.
The new feature will only show the "Important" messages which is perfect for most users who have come to rely on Google Priority Inbox to sort their email.
To enable this feature, log into Gmail and click on settings. Next click on Labs in the upper right corner and scroll down until you see the "Unread Message icon" lab feature. When you find this, click enable and scroll to the bottom of the page to save your changes.
For more information about Gmail Labs and the cool things you can do with it, check out our Guide to Gmail Labs.
Advertisement