Google is taking the idea of analyzing your email to determine what you don't want to read (spam) and turning it on its head to help determine what you do want to read first with their new Priority Inbox feature that will be rolling out in the coming days and weeks.
Priority Inbox is a new feature of Gmail and Google Apps for Domain email accounts which takes a look at your incoming email and prioritizes some messages over others.
When using the Priority Inbox Gmail will be split into three sections.
Messages that Gmail thinks a user will find important and are unread
Starred Messages for followup
Everything else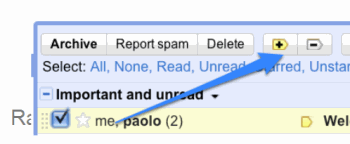 The Important and unread section will show messages that Gmail determines important. Gmail does this by keeping track of who a user converses with often, what kinds of email the person often reads first, and which kinds of messages are usually responded to first. These are tagged as important and will show up first in the inbox.
Over time the system will improve the more it is used. Also users can train the system marking messages with a +/- to bump messages up or demote a message's priority level.
If a user sees a prioritized message that should be dealt with later, the user can click on the star next to the message to send it to the starred section. Those starred messages will show up in the second tier of the inbox for handling at a later time.
Finally, the rest of the messages that are deemed as not spam, but not as important will be at the bottom of the inbox.

Google says this new feature will shave 6% off the time users will need to manage their email inboxes. According to Frederic Lardinois of Read Write Web, the average person spends about 13 hours a week trying to get through their email. If true, this feature could save the average Gmail users 46-47 minutes a week.
Read Write Web spoke to David Allen, author of the popular time management book Getting Things Done and he had the following to say about Gmail's Priority Inbox.
"After talking to Google about it though, he now thinks that it can help Gmail users make more effective decisions about their email and to avoid constantly looking at their email in what he calls the "emergency scanning mode" because they have no way to prioritize all the messages in their inboxes. Allen also thinks that the combination of Gmail stars in addition to the algorithm will help people to remain in control of their email. The assumption behind this, of course, is that Google's algorithm does indeed work as advertised."
To get the new feature, users of regular Gmail will simply have to wait on Google to flip the switch. Google Apps for Domain customers will as well, but their domain administrator will also have to turn on pre-release features first, if that has not already been done. To do so, a domain administrator should do the following:
1. Log into the admin email address and find the link in the upper right that says Manage this domain".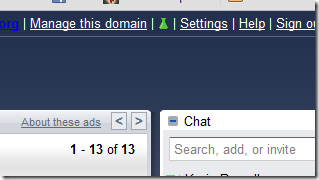 2. Click on the Domain settings" tab.

3. Scroll down and find the section called New Servinces and Pre-release Features" and check the second item: Enable pre-release features".

Once it is ready, Google will flip the switch on the account and users should see the New! Priority Inbox" in the upper right corner next to their email addresses.

Advertisement