MSI has released the MSI FX600 entertainment notebook which is equipped with a 2.26GHz Intel Core i3 processor, NVIDIA Optimus technology and specs that make it an attractive option to multimedia junkies.
Notably the FX600 comes with a Blu-Ray player, THX surround sound and NVIDIA Optimus technology to intelligently switch to the NVIDIA GeForce GT 325M with 1GB of Video RAM. The THX surround sound system includes 4 speakers and a button to turn on Cinema Pro technology which enhances the colors and viewing experience of movies. This feature is likely to provide similar visual enhancements to those we saw on the Lenovo Y460 with the OneKey Theater mode shown below.
In addition to the multimedia specs, the FX600 has a chiclet style keyboard and a multitouch mousepad as well as a jet black cover that is supposed to prevent scratches.
The MSI FX600 has the following specs:
Intel Core i3 350M(2.26GHz)
15.6″ Display (1366×768)
4GB Memory
500GB HDD
Blu-Ray Combo Drive
NVIDIA GeForce GT 325M with NVIDIA Optimus
THX surround sound
ExpressCard
3 USB 2.0
eSATA/USB combo
The FX600 is already available from Newegg for $799 and for that price you'll find yourself with a well equipped notebook that should be able to handle many multimedia tasks as well as surfing the web, working on Office Documents and doing some photo and video editing.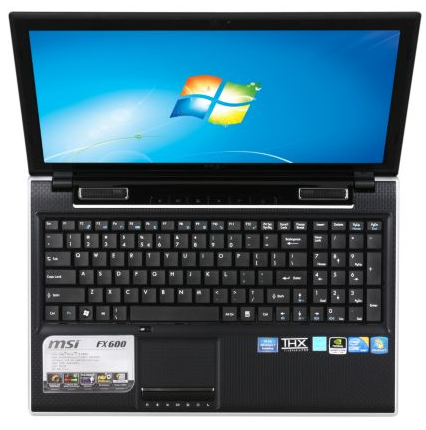 Advertisement