Barnes & Noble recently introduced new eBook software called NOOKstudy. The new software aims to provide an alternative traditional textbooks.
Barnes & Noble has been in the eBook/eReader market for a while now, with their Nook eReader. In an effort to expand their market, they released eReader applications for the iPad, iPhone, iPod Touch, BlackBerry, PCs, and Macs. Now, they are going a step further by offering NOOKstudy, a new software application for PC and Mac that allows you to view and interact with textbooks.
NOOKstudy allows you to take advantage of their vast selection of Textbooks, even if you do not have an eReader. Not only can you view your textbooks on the computer, but now you can interact with them as well.
Using NOOKstudy, you can:
Download and organize all of your textbooks
Manage class syllabi, handouts, lecture notes, and leisure reading
Organize materials by course
Take notes directly in your eTextbooks
Highlight passages
Search for specific text in each book as well as your notes
Open multiple textbooks at the same time
Zoom-in on pictures and diagrams
Look up definitions and formulas on websites such as Google and Dictionary.com
Barnes & Noble has been privately testing NOOKstudy for a while now and expects to release it, publicly, sometime in August, just in time for back to school. The best part; NOOKstudy will be free. Be one of the first to know when NOOKstudy is available by signing up here.
The Nook WiFi is $149 and the Nook 3G+WiFi is $199. The Nook offers access to over one million titles, the ability to lend eBooks to friends, and free connection at all AT&T hotspots.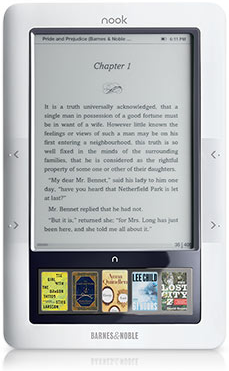 Via Barnes and Noble, Liliputing
Advertisement