Now that summer is in full swing officially, we know that many of you are getting ready to take a trip to the beach, a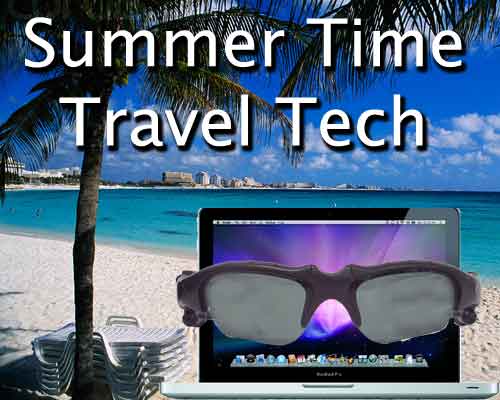 cruise or maybe you are just going to see some family. You will be on the road in the car, sitting in airports waiting for your next departure, or crammed into coach. While on the go you don't have to be disconnected or bored thanks to some great tech toys and tools.
For the next few days we will be examining some of the best summertime Travel Tech. In each of these articles we will look at a particular area of technology and make some suggestions for you. Understand these are not necessarily endorsements or reviews. When we mention specific products we are simply suggesting them as examples of the kind of technology that you might want with you on the road this summer.
In this first installment, we will be looking at what makes a good Summertime Travel Notebook and suggest a few good options. In the ensuing installments look for tips on Notebook accessories, a good Summertime travel camera, and an alternatives to a computer like a netbook, tablet, gaming device or Internet device. Finally, we will talk phones.
Battery Life: Number One Feature for Travel Notebooks
So, what makes a good summer travel notebook? I asked our staff here at Notebooks.com and over at our sister site, Gottabemobile. And the first thing on the list of the majority of our staff was battery life. Our friend  Sumocat at GBM said of an Electrovaya SC-500 Tablet PC, "Worked outstandingly well because its battery could go twelve hours at a time. If you're worrying about batteries, you're not enjoying your trip." Isn't that the truth.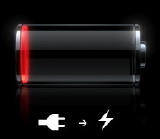 Last summer I took a trip to visit my family back in the Midwest. My notebook has a decent battery, usually lasting four hours, but when you are driving for more than 10 hours in one day that's not enough. I'm going to take the same trip this summer and a 12 hour battery would be a great asset.
Some good examples include of course Apple's notebooks. The MacBooks and MacBook Pros all have an advertised battery life of about 8-10 hours. Testers are finding that Apple is actually pretty accurate. Another option is the MSI X-Slim X350 which reviewers note has pretty good battery life.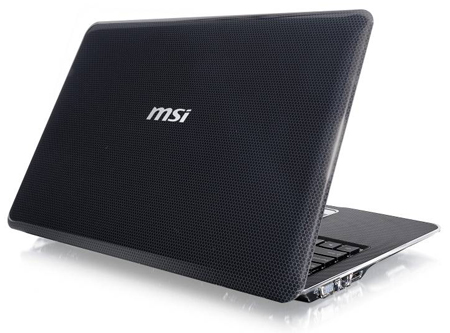 There are a lot of options here. You could go with a netbook, but we will cover those specifically in a separate post. The key is to make sure you are getting what you think you are getting. Don't go into the Big Box store and assume that because a card with a list of specs says it gets 8 hours of battery life that it really does. Most of those claims are inflated and based on tests run in conditions you will seldom reproduce in your typical travel use. If you use your notebook to charge other devices via a USB port, then battery life goes down.
What if you don't have the scratch to get a new computer? You could go the route of getting either a new or extra battery. For example, my notebook has multiple options for batteries. If your notebook came with a lower capacity battery, there may be an upgrade with a 6 or 12 cell battery that will last much longer. Look online for a new battery. You could get a higher capacity and still carry the old one as a backup giving you as much as 150 percent more battery life over your present setup.
Display: Number Two Feature for Travel Notebooks
The second most mentioned spec in a good summer time travel notebook PC is the screen. The main things you will want to look for are a smaller screen, good viewing angle and if available a matte display.
Smaller Means More Portable
Smaller displays mean smaller notebooks. You don't want to carry around a nine pound 18.4 inch computer all summer. So going with a smaller screen you will likely get more mobility.
Just because you go small doesn't mean you have to sacrifice power. The Alienware M11x is a nice option bringing the power of a gaming notebook in a small form factor at less than 4.5 pounds.
Display Quality
Besides size, you will want a notebook with a good quality screen. Viewing angle is one of the things to look for, but only if more than one person is going to be viewing the computer. For example, you may want to have the kids watching a DVD in the backseat. This is a great way to keep the occupied on long trips. To keep them from fighting over who gets to hold it because they can't see the screen if they aren't holding it, you want a wide viewing angle.
Matte Screens Better in Bright Light
The last thing to look for in a summer travel notebook display is a matte screen. Today, it seems that the majority of computers ship with glossy finish displays. They look nice and bright under low light, but when the sun is peering through the window of the minivan or over your shoulder at the beach or park, the last thing you want is s reflective display. When I asked Xavier Lanier, our publisher, what he looks for in a summer notebook, he mentioned small display and long battery life like everyone else. But he put in all capital letters, "MATTE DISPLAY". If you read his post about his MacBook Pro entitled "Why I bought a New MacBook Pro" he said one of the main reasons was it was the only option with a matte display. He said in the article, "I recommend notebook shoppers opt for anti-glare/matte displays when given a choice." Why? Look at the picture below: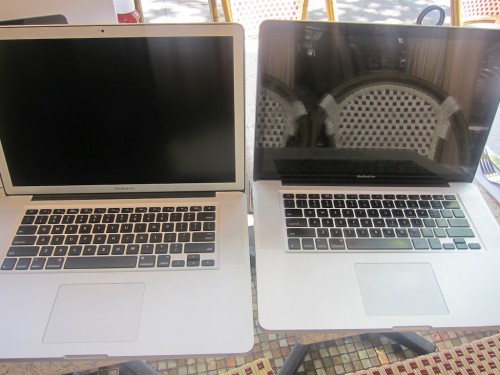 The difference is amazing. If you want to check if you have food in your teeth, the right one is the best choice. But if you want to actually see your computer display with bright sun shining on it, you will need the left display. As I type on my glossy screened HP DV5T I am struggling to see the words. And I'm inside. The window however is letting in a lot of light. On the road in a car or outside at a summer time fun place like the beach or a park, you will need less glare.
Entertainment Features
Another consideration is entertainment. You might want to use this notebook to watch movies. To do so, I suggest three things. First, an HD display would be a good option. The better the resolution, the better the movie will look. Second, if you like to watch HD movies, you will want a Blu-ray player. Finally, you might want to connect that computer to an external display. Look for a good option for this.
Most notebooks in the past had one option for getting your signal to an external display – a VGA adapter. Today, however, there are a number of options. A step up is a DVI port. But a lot of HD TVs today will support HDMI, which carries both the video and audio signals to the TV. A convenient option is a Wireless Display or WiDi. The only problem you have there is you must have a TV that supports it or a receiver to hook up to the TV, which defeats the purpose of traveling light. So go with HDMI or just watch the movies on the computer.
What do you think? Is there a feature we've left out? Have a recommendation of a specific computer that you love for summer time travel? Leave a comment below.
Next up: a look at what makes a good summer travel camera. Got any suggestions?
Advertisement