Good news for all of the Mac gamers out there. It looks like Valve Software, the company behind the Steam game distribution engine, is finally coming to the Mac platform.  There has always been a complaint about gaming on the Mac platform.  None of the major game companies design for the platform.  The game choices have always been limited.  Even now with all of the online gaming, there is still a limited number available for play on a Mac system.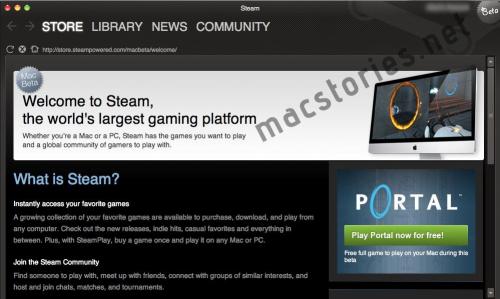 Right now, there is a closed beta going on for Steam on the Mac, and according to MacRumors, here is what is going on behind beta closed doors:
Reports confirm previous claims that Steam and the Source gaming engine will run natively on Mac OS X using OpenGL instead of relying on a wrapper such as Cider to translate the Windows versions to Mac. That commitment and designation of Mac OS X as a "Tier-1 Platform" offer evidence that Valve is seeking to make the Mac gaming experience as equal to the Windows experience as possible.

Steam itself will also be Intel-only and require Mac OS X Leopard, although individual games may require newer versions of Mac OS X. Reports also indicate that systems using Intel's X3100 or 900-series integrated graphics will not be supported for Source-based games, although testers have been able to get the Mac version of Portal running at 10-15 frames per second on lowest settings on these systems.

Other details coming out of the beta testing are confirmation regarding Steam Play, which will allow users to purchase a game only once and play it on multiple systems, as well as corroboration that Windows and Mac users will play on the same servers with the ability to join the same lobbies.
Here is some video on what Steam for Mac will look like:
The following games have been confirmed for Mac:
Counter-Strike (presumably Source)
"The Half-Life Series"
Left 4 Dead
Left 4 Dead 2
Portal
Portal 2 (upcoming)
Team Fortress 2
There's currently no release date set for the Steam on Mac, but we've been told that an open beta take place before the actual launch, so expect that to happen first.
UPDATE: Valve Software announced Steam on Mac due May 12, 2010.
Advertisement