Last week my wife picked up a new Palm Pixi Plus as part of Verizon's New Every Two upgrade plan. My wife visited the Verizon store to check out the phone offerings by herself so that I wouldn't influence or persuade her decision. She wanted a phone that was easy to use, thin in design, included a key pad, and came with a data plan. She was tired of seeing me be the only one with Internet access on my phone.
I did offer some advice before her journey to Big Red. Despite Palm's recent struggles to gain a strong foothold in the smartphone arena, I suggested she take a look at Verizon's Palm Pixi Plus. A significant new selling point of the Palm Pre Plus and Pixi Plus at Verizon is the included free mobile hotspot application. Essentially, anyone who purchases the Pre or Pixi at Verizon will also have the ability to convert their smartphone into a Wi-Fi hotspot. This is similar to Verizon's Mi-Fi product, a wireless hotspot that taps into Verizon's 3G network and costs $59.99 a month. Unlike the Mi-Fi, the Pixi Plus not only has the ability to share an Internet connection, it can also make phone calls. The mobile hotspot feature allows anyone with a Wi-Fi enabled device to share the smartphone's data plan for free.

Josh Smith of Notebooks.com recently highlighted a few easy ways people can find mobile Internet for their iPad without the integrated 3G connection from AT&T. One of these ways, rooting an Android powered phone, is becoming a more common and popular method for folks to easily turn their own smartphones into mobile hotspots.
Rooting your phone essentially means that you have administrator control; it means you have the ability to execute certain commands and run programs which Verizon, Google, and other stakeholders would rather you not. There are a variety of sources available online to learn how to root your phone. A few such sites focused on Verizon's Droid series of phones includes RootYourDroid.info, DroidMod.org, Droid-Life.com, and the numerous posts at DroidForums.net. The process does require a moderate amount of computer knowledge and there is the minimal risk of voiding your warranty and bricking your phone. Most people with the ability to follow directions can easily root and even unroot their smartphones in under 30 minutes.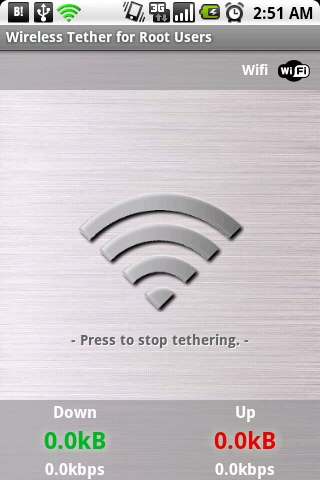 The question is whether enabling Wi-Fi tethering is a violation of Verizon's terms and what trouble you may face for rooting your smartphone and turning it into a mobile hotspot. Verizon and other carriers have stayed mum on this topic while rooting has taken off like wild fire. One reason they have remained quiet about this subject is that they lack the ability to appropriately police and control the situation. Smartphone forums are scattered with half-truth evidence of Verizon employees having the ability to tell when your phone is rooted and tethering is active. Other posts state the complete opposite, that Verizon has no ability to see when your phone is rooted or when you are tethering. Couple all of this with the fact that free applications such as PDANet, an app that shares your smartphone's data plan via a wired connection, is available in the Android Market, and it's easy to see how difficult it is to prevent consumers from sharing their data. Many of these apps or similar hacks are available for non-Android powered smartphones as well. Wireless carriers are losing their ability to restrict the programs that are running on consumers' smartphones.
A recent posting at DroidForums.net states Verizon employees will soon be cracking down on rooted phones if they are brought into the store for service. The post also states that Verizon will begin canceling contracts and requiring subscribers pay the early termination fee (ETF) if they are caught using wireless tether. Like most information on the Internet, this posting is to be taken with a grain of salt.
Until Verizon and other mobile carriers speak up or crack down, it appears that the ability to prevent Wi-Fi tethering from rooted smartphones is uncontrollable. Of course, Big Red and the other wireless carriers do like the fact that there is fine print detailing what can happen if you go over the limit of your unlimited data plan. Wi-Fi tethering does seem to be free on all rootable smartphones for the time being. This may be one small victory in which wireless subscribers are able to triumph in a world of overpriced smartphone data plans. Wireless carriers may soon lose their grip on charging consumers for something that should be free anyways.
What are your thoughts on rooting your phone and enabling wireless tether capabilities?  Share your thoughts or experiences in the comments below.
Advertisement