Wireless charging has always been a lusted after ability and Powermat is one company that has been working on making it a reality. Granted it's not the same absolutely no wires tech that was mentioned in the Intel conference (which can move power a few inches) but for convenience the type of wireless charging brought to life by Powermat is great.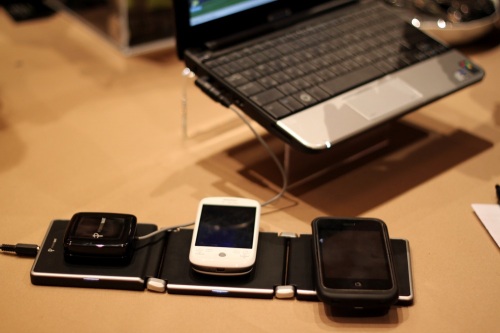 Image via JKonTheRun
Kevin Tofel of jkOnTheRun is also here at CES and he found a cool new Powermat device which will let you charge your netbook wirelessly. Sound too good to be true? Well, you're right it is too good to be true but the Powermat wireless netbook charger is still interesting to me.
To use the device you plug in an adapter that sits on the Powermat for wireless charging and allows you to get easier access to charging. Kevin mentions that the new Powermat batteries for cell phones look better than the last generation and the company is working with more OEMs for a more integrated Powermat wireless charging solution. I can only hope my next netbook has some of this technology built right into the device; or that I can at least buy a battery that does!
Advertisement