The Acer Aspire One 532G is supposed to be the first notebook with next generation NVIDIA ION technology, but the recently announced Gigabyte M1000N is hot on the heels, and will be available for purchase soon.
The Gigaybyte M1000N is the successor to the Gigabyte M10222 Gigabyte Booktop and coming in two different variants M1000C and M1000N. You might have guessed by name that 'N' on M1000N stands for NVIDIA; both of these netbooks will come with the 1.83 GHz Intel Atom N470 processor.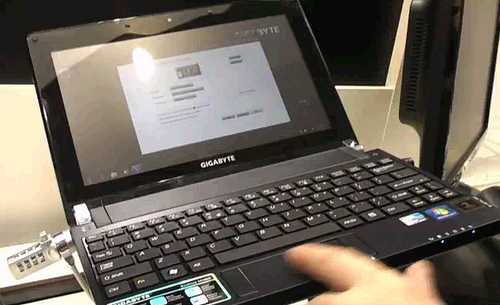 M1000C Netbook: This Netbook is coming with 10 inch display size and will be the entry level Gigabyte M1000 series. The price for this netbook is not yet announced but this netbook will be available in April.
M1000C netbook specifications:
1.84 GHz Intel Atom N470 processor

10 display size

1 GB RAM

250 GB Hard Drive

2 usb 2.0 port and 1 combined usb/eSata port

1 express card slot

4 Cell battery

Will be availiable on Silver/blue/Pink Color.

Operating System: Window 7 Starter
M1000N Netbook: M1000N will follow the release of the M1000C netbook and will be coming to market in April or May. The M1000N and M1000C will be coming with a very similar configuration, but M1000N will include the Nvidia ION 2 Graphics Processor, HDMI port, DVD drive.
M1000N netbook specifications:
1.84 GHz Intel Atom N470 processor

10 inch display size

Nvidia ION graphic processor

Integrated DVD-Drive

1 HDMI port, 2 usb 2.0 port and 1 combined usb/eSata port

6 cell battery

1 GB RAM

250 GB Hard drive

Operating System: Window 7 Starter
Here's a short video of the M1000N:
News Source: Netbooknews.de
Advertisement