MSI has just announced that two new MSI Wind U230 netbooks are now available for purchase at Newegg.com. These two netbooks break from the traditional netbook specs with a 12.1″ screen, 2 GB of RAM, Windows 7 Home Premium and Athlon Neo processors including a Dual Core X2 processor option on the Wind U230-040US model. In fact, when you look at the whole package it's hard to consider the higher end U230 a netbook as its specs make it look more like a ultra-portable.
The two models, the Wind U230-033US and the Wind U230-040US both are designed with the MSI EDS (Ergonomic Destress) keyboard which are 51% larger than standard keys. This larger surface area is supposed to reduce finger and wrist strain that typically acoompanies prolonged netbook usage; but it isn't clear what size a "standard" key is. We look forward to taking a closer look at an EDS keyboard in the near future to see for ourselves.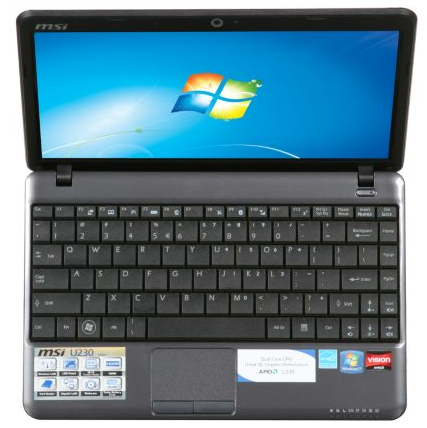 The Wind U230 netbooks also include some additional extras like an HDMI port in addition to VGA, and an ATI Radeon HD 3200 GPU that isn't brand new but will provide enough horsepower for most netbook tasks. Several reviews on Newegg note that it plays back 720P video files without an issue.
The Wind U230-033US is $429.99 and the Wind U230-040US is $479.99.
MSI Wind U230-033US Specs:
CPU- Athlon Neo MV-40
OS – Windows 7 Home Premium
LCD – 12.1″ WXGA (1366×768) Ratio: 16×9
Chipset – AMD RS-780MN + SM710
Graphic – ATI Radeon HD3200
Memory – 2GB (expandable to 4GB)
Storage – 250GB SATA
Wireless – 802.11b/g/n
Battery – 6-cell
Webcam – 1.3 MP
I/O – 3 USB, VGA, HDMI, Ethernet, Mic-in, headphones
Card Reader – 4 in 1 (SD, MMC, MS, XD)
Dimensions – 13.75″ x 9.61″ x 3.47″
Weight- 3.3 lbs
Warranty – 1 year limited
MSI Wind U230-040US Specs:
CPU- Athlon Neo X2 Dual Core
OS – Windows 7 Home Premium
LCD – 12.1″ WXGA (1366×768) Ratio: 16×9
Chipset – AMD RS-780MN + SM710
Graphic – ATI Radeon HD3200
Memory – 2GB (expandable to 4GB)
Storage – 320GB SATA
Wireless – 802.11b/g/n
Battery – 6-cell
Webcam – 1.3 MP
I/O – 3 USB, VGA, HDMI, Ethernet, Mic-in, headphones
Bluetooth – Yes
Card Reader – 4 in 1 (SD, MMC, MS, XD)
Dimensions – 13.75″ x 9.61″ x 3.47″
Weight- 3.3 lbs
Warranty – 1 year limited
Advertisement