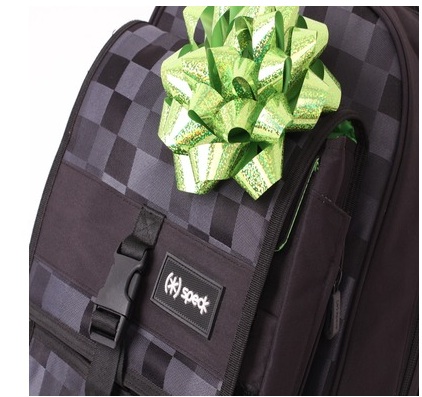 As a CES newbie, I wasn't exactly sure what I was in for when I packed all my gear.  I figured one of my standard laptop bags could carry my Macbook, camera, Flip video, extra batteries, cords…etc..etc…
And well, it all fits and the bag made it through the TSA without issue.  I won't say which manufacturer my laptop bag is from, but they are a good company with great products.  I really like this bag.  It's stylish, has lots of pockets, fits everything I have, and is easy to scan through the TSA check point.
So, I have been carrying this around to all the press functions the last two days.  I think my shoulder was going to come out of its sockets.  The bag fully loaded is too heavy and the strap cuts into my shoulder too hard.  I didnt know how I was going to make it through Sunday..until Speck saved my shoulder.
Speck is a great company that specializes in cases and carry bags of all types.  They have a lot for Apple products, like the iPhone and Macbook, but also have cases for Kindles and other gadgets.
I was at Digital Experience tonight and stopped by their booth.  I complained about my bag issue, and the nice folks there offered me one of their AftPack Backpacks.
Las Vegas really is the place where dreams come true.  Speck has just made CES a lot easier for me.  Thank you Speck!  I'll be enjoying the bag and posting my thoughts soon.
Advertisement