If you ever wanted to share your internet connection or files, like photos, with family members or friends without routers then you are in luck. Windows 7, with help of Connectify software from Nomadio Inc, will have you sharing files wirelessly in less than 30 minutes.
You can use Connectify the same way as you use any other wireless router without compromising any security.  The program uses WPA2 encryption, which uses very strong AES encryption algorithm and matches with strongest encryption standards available across wireless networking industry, to keep your files safe. If your wireless cards don't support WPA2 security you should look for updated drivers from your computer's manufacturer or purchase a new wireless adapter.
So if your notebook or desktop is running Windows 7 and has working wireless adapter (which supports WPA2) then you can throw the router in box and let your Windows 7 PC act as your wireless access point.

Downloading and installing Connectify:
Step1: Download Connectify Me from their website. Currently it's in beta version and free to download. Before allowing you to download, it will ask you to fill the registration form which will take less than 30 seconds. After submitting your data you'll be able to download the Connectify Me beta.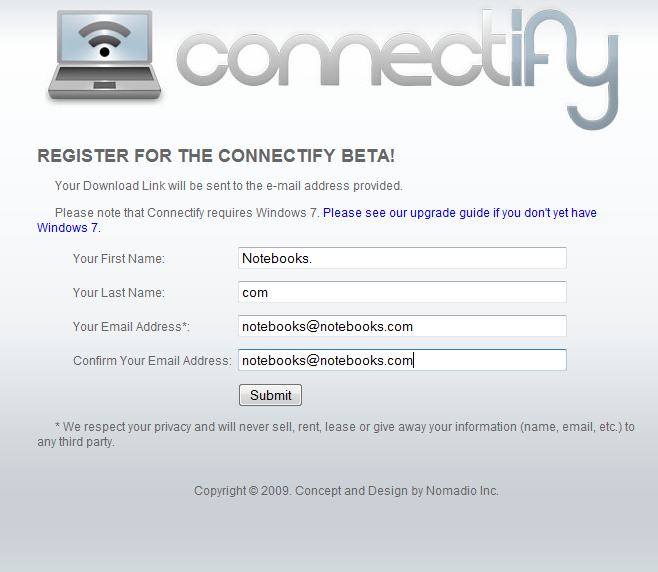 Step2: Run the installer, accept the license agreement and Connectify will be installed on your machine.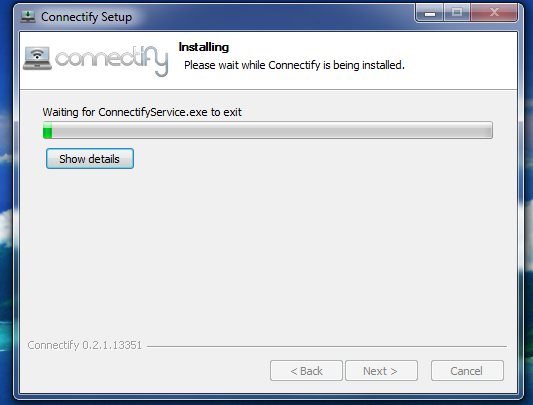 Step3: Start Connectify if it doesn't start automatically (by default). You can start Connectify by looking into all programs or typing Connectify in search bar of window start menu.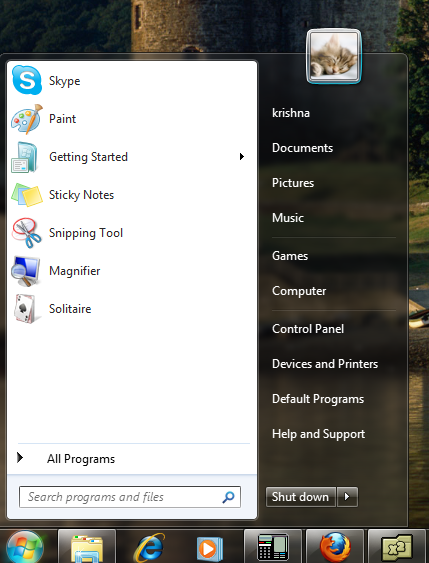 Settings:
Step4:  Once Connectify starts you have to create a SSID name for your wireless access point. This is the name other computers will see when they want to connect to your wireless network. By default Connectify will choose an SSID of "connectify".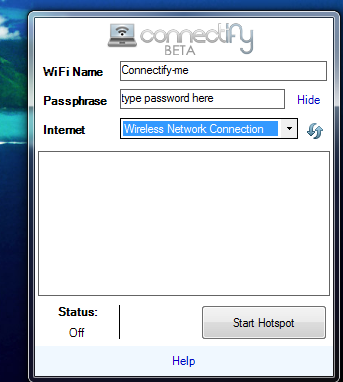 Step 5: Enter the passphrase value into passphrase field. You can enter whatever you want. Just make sure that it secure password and can't be guess by anyone. Remember though; this passphrase will work as password to connect to wireless access point so make sure you can remember it or write it down somewhere safe. The limitation of passphrase field is that you must enter at least 8 characters for your passphrase and maximum will be 32 characters.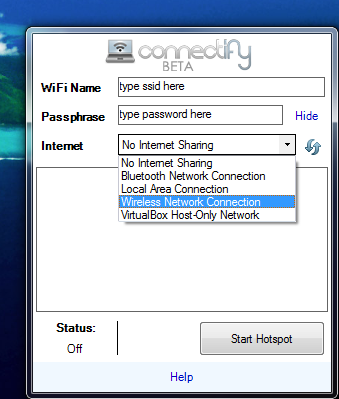 Step 6: As you can see in screen shot there is dropbox labeled Internet. Here you will configure your wireless access point. If you want to have more than one connection, select the connection to share from column pull-down menu bar; you can use this column to share a wired or wireless connection.
Step 7:  Click the 'Start hotspot' button to turn on the Connectify access point.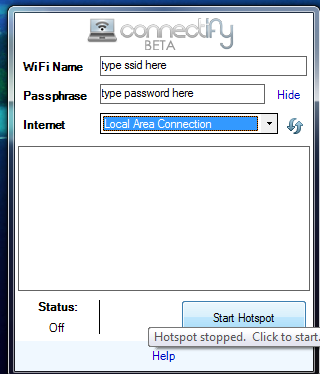 Connecting to Connectify:
Step 8: On your other computers you can connect to the Connectify access point just like you would a traditional method wireless connection (how to connect to a wireless network). Just give the SSID name and passphrase and you will be connected to internet or network.
Please note that to access the Connectify access point you don't need to have Window 7 installed on your machine. All other operating systems will be able to connect to the Connectify access point. So whether you have Ubuntu, Fedora, XP, Vista or OSX on a Mac you're good to go.
Once other computers connected you can find out the lists of connected computers including the computer name and IP address.
Connectify is a great product and worth trying out especially since it is free. It's very handy when you absolutely need to use router but don't have it with you like when you are traveling, visiting family, want to share your laptop in conference room, etc.
Right now Connectify is in beta and free of charge but they might start charging for the software in the future.
For more info on Connectify you can watch this demo video.
Advertisement