If you're looking for an energy efficient notebook designed for portability and high battery life, you don't have to wait for Black Friday for a good deal. Amazon.com is running a special bundle promotion for ASUS's UL series. If you purchase an ASUS UL50AG-A2, ASUS UL20A-A1, or an ASUS UL80Vt-A1 Thin and Light Laptop, you can get a free gift card worth up to $100, good towards any future purchase at Amazon.com! Buying an ASUS UL20A-A1 notebook gets you a free $75 gift certificate, while an ASUS UL50AG-A2 or ASUS UL80Vt-A1 yields a $100 gift certificate.
To qualify for the special offer, access the promotion page, either by clicking here or on the image below. Select the laptop you'd like to buy, add the appropriate value gift certificate to your cart, and check out. On the last page, you'll see that your total is reduced by the amount of your gift certificate! As with most promotions and special offers, this deal is only available for a limited time. Though the promotion is scheduled to last through December 18th, Amazon can end it whenever they choose. Make sure that you're buying your notebook directly from Amazon when checking out; choosing a third-party seller disqualifies you. One way to check is that your order is eligibile is to make sure that the full value of the gift certificate is shown in the "Promotion Applied" section right before you check out.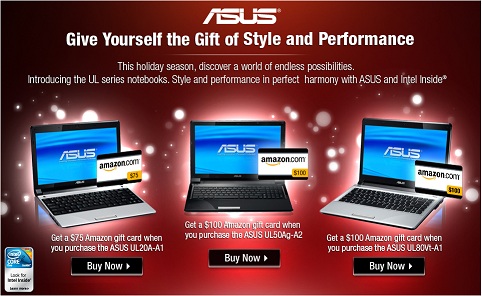 If you're having trouble deciding between the three different models available, first you need to figure out whether or not the ASUS UL Series is right for you. These notebooks aren't built with particularly powerful hardware and aren't meant for advanced users who'll be run complicated and resource-heavy programs. The UL series is created specially to cater to consumers who want a long battery life and a mobile, slim computer. These machines are perfect for people who are constantly on the go and will use them for word-processing, watching movies, or accessing the Internet.
As you may have noticed, there are some differences between the three models eligible for the promotion. Though all of the notebooks are equipped with the same caliber processor, their other specifications vary. Compare their full details below before making your  purchase!
ASUS UL20A-A1 Specifications:
| | |
| --- | --- |
| Brand | ASUS |
| Model | UL20A-A1 |
| Processor | Intel SU7300 Core 2 Duo Processor |
| Processor Speed | 1.3GHz |
| Memory | 2GB RAM |
| Memory type | DDR2 |
| Max Memory supported | 4 GB |
| Hard Drive | 250GB SATA Hard Drive |
| Hard Drive Speed | 5400RPM |
| Optical Drive | N/A; External Drive May Be Purchased Separately |
| Double layer support | N/A; External Drive May Be Purchased Separately |
| Display | 12.1″ WXGA LED LCD Display |
| Display resolution | 1366×768 |
| Graphics Card | Intel GMA X4500MHD |
| Operating System | Windows 7 Home Premium 64-bit |
| Battery | 6-cell Lithium Ion Battery |
| Battery Life | Up to 7.5 Hours of Battery Life |
| Wireless | WLAN 802.11b/g/n |
| Dimensions | 11.8 (W) x 8.4 (L) x 1.0 (H) inches |
| Weights | 3.3lbs |
| Web Cam | Built in webcam |
| Media Card Reader | 8-in-1 card reader |
| Price before Gift Certificate | $581.03 |
ASUS UL50AG-A2 Specifications:
| | |
| --- | --- |
| Brand | ASUS |
| Model | UL50AG-A2 |
| Processor | Intel SU7300 Core 2 Duo Processor |
| Processor Speed | 1.3GHz |
| Memory | 4GB RAM |
| Memory type | DDR2 |
| Max Memory supported | 4 GB |
| Hard Drive | 320GB SATA Hard Drive |
| Hard Drive Speed | 5400RPM |
| Optical Drive | N/A; External Drive May Be Purchased Separately |
| Double layer support | N/A; External Drive May Be Purchased Separately |
| Display | 15.6″ HD LED LCD Display |
| Display resolution | 1366×768 |
| Graphics Card | Intel GMA X4500MHD |
| Operating System | Windows 7 Home Premium 64-bit |
| Battery | 8-cell Lithium Ion Battery |
| Battery Life | Up to 12 Hours of Battery Life |
| Wireless | Wi-Fi 802.11 bgn |
| Dimensions | 15.4 x 10.4 x 1 inches |
| Weights | 5.2lbs |
| Web Cam | Built in webcam |
| Media Card Reader | 5-in-1 card reader |
| Price before Gift Certificate | $774.95 |
ASUS UL80Vt-A1 Specifications:
| | |
| --- | --- |
| Brand | ASUS |
| Model | UL80Vt-A1 |
| Processor | Intel SU7300 Core 2 Duo Processor |
| Processor Speed | 1.3GHz |
| Memory | 4GB RAM |
| Memory type | DDR3 |
| Max Memory supported | 8 GB |
| Hard Drive | 320GB SATA Hard Drive |
| Hard Drive Speed | 5400RPM |
| Optical Drive | N/A; External Drive May Be Purchased Separately |
| Double layer support | N/A; External Drive May Be Purchased Separately |
| Display | 14″ Widescreen HD LED LCD Display |
| Display resolution | 1366×768 |
| Graphics Card | NVidia G210M Graphics with 512MB DDR3 + Intel GMA 4500MHD (Switchable VGA) |
| Operating System | Windows 7 Home Premium 64-bit |
| Battery | 8-cell Lithium Ion Battery |
| Battery Life | Up to 11.5 Hours of Battery Life |
| Wireless | WLAN 802.11b/g/n (draft 2.4GHz n) |
| Dimensions | 13.3 (W) x 9.45 (L) x 0.55~1.06 (H) inches |
| Weights | 4.41lbs |
| Web Cam | Built in webcam |
| Media Card Reader | 5-in-1 card reader |
| Price before Gift Certificate | $823.53 |
Advertisement